Crossposted from ThisIsOurTime Blog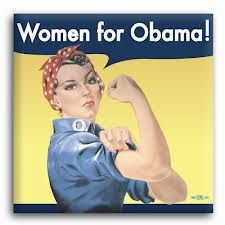 Considering all of Mitt Romney's positions on women issues, it is quite unbelievable that there are still women who would vote for an anti-women Presidential candidate. While the number of women who are taking a closer look at the Presidential candidates has significantly increased, currently polls are also indicative that by in large women have already picked the candidate who would fight for them favoring President Obama by huge margins giving him a double digit lead in key swing states.
According to the Quinnipiac University/CBS News/New York Times poll released last week, President Obama is leading the Presumptive Republican Presidential candidate, Mitt Romney, in three key swing states (PA, OH and FL) due in large part to independent and women voters. In Pennsylvania, President Obama leads Romney by a 53 percent to 42 percent with independents and women favoring the President by 22 and 24 points, respectively. In Ohio, the President leads 50 percent to 44 percent, women backing him up by a 21-point margin while Ohio men backing Romney by ten points. In Florida, the President leads by 51 percent to 45 percent holding a small lead among both men and women but leading by a double digits among Hispanics and voters age 65 and above.
One may ask why are women flocking towards President Obama or ask why women are afraid of Mitt Romney?
Mitt Romney has been ending up on the wrong side of every issue that's important to women and their health concerns. Be it the failed Blunt Amendment that was trying to take women's health decisions out of women's hands and give it to their employers; attacking the ability for women to gain free care for contraceptive coverage, mammograms, cervical cancer screenings or preserving a women's right to choose, at every turn, Mitt Romney has been nothing but a flip flopping liar while embracing Rush Limbaugh's slut-rampage to demean women. His flip flopping record on many other issues throughout his entire political career has demonstrate a total disregard for an honest position and lack of conviction or commitment to any one issue. In fact, it is now very obvious that Mitt Romney is just trying to comply with voter demands chasing the same constituents that ridiculed him during the Republican primary.
Just like Mitt Romney flip flopped on many issues like letting Detroit go bankrupt, this video just about sums it up about how untrustworthy Mitt Romney is and why he can't be trusted to lead America.
On the other hand, effective August 1, 2012, because the Affordable Care Act, almost about 50 million American Women are now eligible to receive 8 free preventive health services without a copay or any cost sharing as part of a new provision in President Obama's Health Care plan. Here's the detail breakdown, courtesy of the Dept. of Health and Human Services:
Well-woman visits, including an annual check-up for adult women to get recommended preventive services, and additional visits if women and their doctors determine them necessary.
Contraception and contraceptive counseling: Women will have free access to all FDA-approved contraceptive methods, sterilization procedures and patient education and counseling without a co-pay. Most workers in employer-sponsored plans are currently covered for contraceptives.
Gestational diabetes screening for women 24 to 28 weeks pregnant, and those at high risk of developing gestational diabetes. Women who have gestational diabetes have an increased risk of developing type 2 diabetes in the future and the children of women with gestational diabetes are at increased risk of being overweight and insulin-resistant during childhood.
HPV DNA testing every three years for women who are 30 or older, regardless of Pap smear results. HPV screening has been shown to help reduce the prevalence of cervical cancer.
Annual sexually transmitted infections (STI) counseling for sexually-active women. Such sessions have been shown to reduce risky behavior in patients; only 28 percent of women aged 18-44 years reported that they had discussed STIs with a doctor or nurse, according to HHS.
HIV screening and counseling for sexually-active women. From 1999 to 2003, the Centers for Disease Control and Prevention reported a 15 percent increase in AIDS cases among women, and a 1 percent increase among men, suggesting an increased risk for women.
Breastfeeding support, supplies, and counseling for pregnant and postpartum women, including access to comprehensive lactation support and counseling from trained providers, as well as breastfeeding equipment.
Interpersonal and domestic violence screening and counseling for all adolescent and adult women. An estimated 25 percent of U.S. women report being targets of intimate partner violence during their lifetimes and screening will lead to interventions to increase their safety.
No wonder women do support President Obama and do not trust Mitt Romney who is hell bent on taking away these benefits from women. But again, Romney still has support from some women who either don't know what the Romney Presidency will do to their rights or they are just not paying attention to the issues like many who vote against their own self interest.
It is time to speak the truth, educate and spread the word that Mitt Romney is no friend of women and a Romney presidency will destroy the advancement of women issues that has taken a century to achieve. Of course, Romney's flip flopping positions today indeed have no meaning because tomorrow no one will recognize what Mitt Romney stood for whether it be on women issues or any other issues. Could it be that people are catching on about how unfavorable, fake and untrustworthy Mitt Romney is? I think so because President Obama's 10% national lead per Pew Poll is very telling.
Keep on keepin' on and tell the truth...eventually the truth shall set us all free!
---
Like what you read? Chip in, keep us going.
---