Crossposted from ThisIsOurTime Blog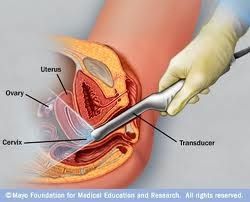 A Republican-supported "informed consent"
bill
is now law in Virginia. You may be wondering what this bill that just passed the
House of Delegates
yesterday and the
State Senate
a couple of weeks ago is all about? Well, in short, it is a legalized rape that requires women to undergo forced vaginal penetration to determine a fetus' gestation age before getting an abortion.
Abortion; informed consent. Requires that, as a component of informed consent to an abortion, to determine gestation age, every pregnant female shall undergo ultrasound imaging and be given an opportunity to view the ultrasound image of her fetus prior to the abortion. The medical professional performing the ultrasound must obtain written certification from the woman that the opportunity was offered and whether the woman availed herself of the opportunity to see the ultrasound image or hear the fetal heartbeat. A copy of the ultrasound and the written certification shall be maintained in the woman's medical records at the facility where the abortion is to be performed.

Do we live in 2012? WTF? How the hell is it possible in America that a women against her will be forced to have something pushed into her vaginally in the name of the law? This is no simple matter nor is it like taking an images of a baby in mom's womb where a jelly is covering the tummy and an image scanner is run along the tummy while you watch the baby picture on TeeVee monitors. No, that is just not what this law will force. What it force on Virginia's women is legalized RAPE.
Well, Del. David Englin (D - Alexandria) had tried to make this sad bill to restrict an invasive procedure but according to
The Associated Press
:
House of Delegates Republicans have rejected a last-ditch bid by Democrats to allow women seeking abortions to opt out of an invasive ultrasonic procedure under anti-abortion legislation set for a final House vote Tuesday.



Legislation that has advanced on the strength of a GOP majority would force women to undergo a "transvaginal ultrasound" that produces fetal images.



An amendment by Del. David Englin, D-Alexandria, would have allowed medical professionals to determine whether images can be obtained without being penetrated by equipment used in the ultrasound.
Where is the fucking outrage? I am appalled and ashamed to be a Virginian. REALLY. When will the war on women end?
---
Like what you read? Chip in, keep us going.
---