Crossposted from ThisIsOurTime Blog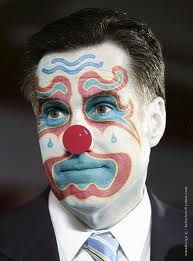 Somebody, please tell Mitt Romney that caring for the poor is not bribing for votes. I don't know about you but I still have a problem with the "I am not concerned about the very poor" statement made by Mitt Romney. I think it is despicable and un-Americana. I know when the going got tough for Romney, he said he misspoke but I really do believe that Romney was speaking from the heart all along.
Well, it is tough to know which side of the issue Mitt Romney is but Rachel Maddow had done a great job unmasking Romney's fake behaviors and beliefs on her show (click the link for a must watch video from a couple of days ago). She, just as I believe, feels that his behavior "was not so much a misplaced set of words as it was a real statement of beliefs" and he demonstrated what he really feels about the poor during the Nevada caucus victory speech Saturday night when he pretty much called the President an "entitlement" President just like Newt called the President a "food stamp" President not so long ago.
Here is the deal, if you care for the poor, you wouldn't use their needs to score political point by belittling or demonizing them as if helping the poor is a crime or un-American. This is what Mitt Romney said in his victory speech in Nevada:
I will not attempt to

bribe

the voters with promises of new programs, new subsidies, and ever-increasing checks from government. If this election is a bidding war for who can promise the most benefits, then I'm not your President. You have that President today.
I think it is clear that Mitt Romney has a "state of believe" that perceives poor people as problems and painting President Obama as an "entitlement President" is a give away as to what he believes deep in his heart.
Well, the best way to weed out the nonsense is to ask what will Mitt Romney do for the poor because I don't believe he will make helping the poor a priority as President Obama has made. I have compiled President Obama's Accomplishment on reducing and assisting people that have become victims of the increased poverty made worse by the economic crisis and these are things Mitt Romney will never try to do if he becomes President:
1) A $20 billion increase for the Supplemental Nutrition Assistance Program (SNAP), formerly known as Food Stamps. [It seems like the President considering the rise in the poverty level (46 million Americans) is trying to help those who are struggling in this economy but they call him a Food Stamp President.]
2) A $1 billion in funding for the Community Services Block Grant (CSBG) that is intended to revitalize low-income communities via "Job training and placement assistance", "Financial literacy programs", et al, to helping families become self-sufficient.
3) A $2 billion in new Neighborhood Stabilization Funds that will allow ailing neighborhoods be kept maintained.
4) A $1.5 billion in Homelessness Prevention Funds to keep people in their homes and prevent homelessness.
5) A $5 billion increase for the Weatherization Assistance Program to help low income families save on their residential energy expenditures by making their homes more energy efficient.
6) A $4 Billion program, The Healthy, Hunger-Free Kids Act of 2010, "authorizes funding for federal school meal and child nutrition programs and increases access to healthy food for low-income children."
7) As part of the HCR bill, subsidies will be available to the uninsured and families with income between the 133 percent and 400 percent of poverty level($14,404 for individuals and $29,326 for a family of four).
8) Estabilished Open Doors to end the 640,000 men, women and children who are homeless in America by 2020.
9) Increased the amount of federal Pell Grant awards so that funds are available to those with less access to have opportunity.
10) Provided $510 Million for the rehabilitation of Native American housing.
11) Expanded eligibility for Medicaid to all individuals under age 65 with incomes up to 133 percent of the federal poverty level ($14,400 per year for an individual).
12) Providing assistance to low-income workers through the Earned Income Tax Credit giving millions of working families the break they need.
13) Education being the way out of Poverty, kicked off the "Race to the Top", a $4.3 billion program, that rewards via grants to States that meet a few key benchmarks for reform, and states that outperform the rest.
14) Extended Unemployment Benefit to 7,000,000 Americans worth $56 Billion.
15) Invested $2.5 billion in HBCUs and minority-serving institutions and doubled funding for Pell Grants their students rely on.
16) Saved more than 1.4 million jobs in the auto industry.
17) Passed the Affordable Care Act, extending health coverage to 30 million Americans, 7 million more African Americans and investing $10 billion in Community Health Centers to expand medical services.
18) Passed a a 2% employee-side payroll tax cut for over 155 million workers.
19) Created the Race to the Top Fund, a $4.35 billion program to reward States that submit the best proposals for change.
20) $275 billion dollar housing plan - $75 billion dollars to prevent at-risk mortgage debtors already fallen victim to foreclosures and $200 billion to bring about confidence to offer affordable mortgages and to stability the housing market.
21) Provided $510 Million for the rehabilitation of Native American housing.
Note: Permission is granted to republish the above accomplishments.
---
Like what you read? Chip in, keep us going.
---