1) The First Obama/Biden 2012 TV Ad - Brilliant
2) Is 15% taxation for a multimillionaire enough?
Romney in hot seat paying only 15% while
his father George paid 37% in Taxes
when he run for President in the 60s. Oops, I guess someone is using
tax heaven investment to game the system
.
Go figure!
3) Is Newt making a come back?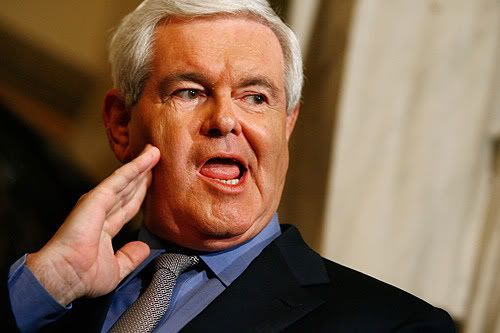 Well, that depends on what you read. If you read
this
, it sure seems like he may just be but if you read
this,
he will more likely say, I am retiring from the political process of being elected for an office as his ex-wife makes a tell all appearance on ABC (planned to air tomorrow) talking about her ex-husband. Herman Cane's ladies were coming out in droves and we know what happened. If damaging, will Newt be another pathetic soul who will be endorsing Mitt Romney? Hey, never say never because not so long ago Huntsman has endorsed Willard after
trashing Romney into pieces in ads
.
4) The Keystone XL oil pipeline application for permit was REJECTED by the White House: (White House Press Release)
LATimes: By Neela Banerjee and Lisa Mascaro, Washington Bureau: The Obama administration denied a permit for the controversial Keystone XL oil pipeline from Canada, leaving the door open for the builder to reapply this year but prolonging a bitter political fight that has raged for months and energized each party's political base.

The State Department, responding to a 60-day deadline Congress imposed in late December, said Wednesday that it did not "have sufficient time to obtain the information necessary to assess whether the project, in its current state, is in the national interest."
Canada is now going to look for China and Asian Markets to sell their reserve in the name of diversifying their financial security.
PM Harper expressing his disappointment to President Obama
:
Prime Minister Stephen Harper, in a telephone call yesterday, told Obama "Canada will continue to work to diversify its energy exports," according to details provided by Harper's office. Canadian Natural Resource Minister Joe Oliver said relying less on the U.S. would help strengthen the country's "financial security." [...]

[...]Environmentalists and Canadian opposition lawmakers welcomed the Obama administration's decision. Megan Leslie, a lawmaker for the opposition New Democratic Party, said the Keystone pipeline project was harmful to Canada's energy security.
Various pundits and bloggers are constantly trying to define where President Obama fits on our outdated political spectrum. Most village pundits place him in a center/left category, while extremists on the left tend to call him an Eisenhower Republican and those on the right say he's a socialist.

I personally don't waste my time with any of these labels because first and foremost I believe President Obama is a pragmatist. He's adapted himself to the make-up of the Congress he has to deal with and seems to approach every situation with two basic questions: (1) What will work, and (2) What can actually get done.

But when we look at specific policies, there are a few areas where he's actually out-flanked most of his critics on the left. Its been interesting to watch that happen and go completely unnoticed. Usually that's because his critics made an early judgement of who he is (Oh-No's, he nominated Geithner!) and then literally failed to see anything that contradicted their assumptions. More...
If only Newt knew the majority of people who receive food stamps are white, children or seniors who are of retirement age.
JUAN WILLIAMS: Speaker Gingrich, you recently said black Americans should demand jobs, not food stamps. You also said poor kids lack a strong work ethic, and proposed having them work as janitors in their schools. Can't you see that this is viewed, at a minimum, as insulting to all Americans, but particularly to black Americans?

GINGRICH: No, I don't see that.
7) Pics of the honoring ceremony of the 2011 Baseball World Series Champion St. Louis Cardinals: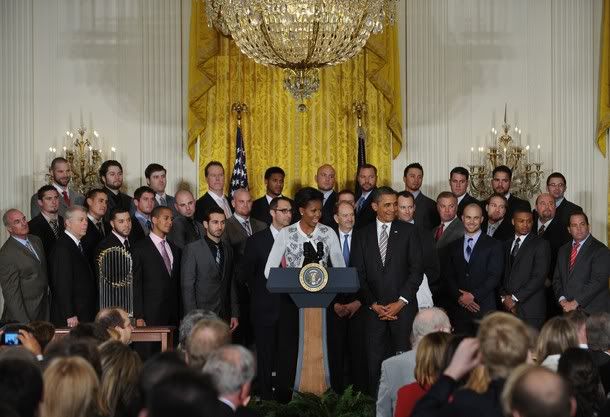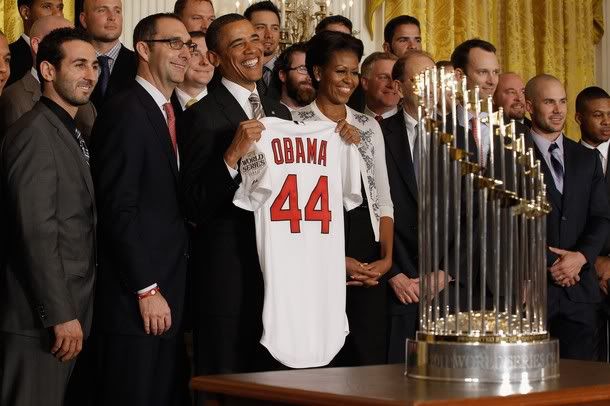 Originally posted at ThisIsOurTime Blog
---
Like what you read? Chip in, keep us going.
---