Introducing Ken Aden: The Next Democratic Congressman from Arkansas by Robert W. Phillips
Ladies and Gentlemen, it is my distinct honor and privilege to introduce to you Ken Aden, the next Democratic Congressman from Arkansas CD-3. Before you jump to any conclusions about Ken's chances to win in what has been described as "the reddest district in the United States", please take just a few minutes to learn a little bit about Ken, who he is, and what he's about. If you'll invest these few minutes of your time I'm sure you'll come away as interested, as excited, as hopeful as I am about having one of our own, Ken Aden, representing a district that hasn't elected a Democrat in nearly a half century. Governor Dean's 50 state strategy marching right into the heart of Republican land. A $7.75 per hour security guard who's ready to storm the halls of Congress.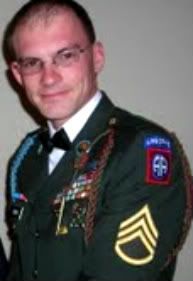 That's Staff Sergeant Ken Aden, recently of the United States Army, a paratrooper with the 82nd Airborne, a Combat Infantryman who was walking the streets of Baghdad as recently as 2009. A man who knows how to fight. In 2010, following his service in the U.S. Army, Ken returned to Arkansas to help care for his grandparents and founded Residents 4 Arkansas, a non profit devoted to the well being of the Senior Citizens, a segment of society near and dear to his heart, but also, as language quoted from his service record so eloquently puts it, " the economically depressed and the socially disadvantaged. After eleven years in the Army, part of the 1% who serve this nation in uniform, Ken has committed his talent, his experience, and his dedication to serving what we now all know as the 99%. Not the 99% who don't wear the uniform, but the 99% who are finally raising their voices and being heard, the economically depressed and the socially disadvantaged. The official language in Ken's Service Record reads:
While assigned to Charlie Troop, SSG Aden has devoted over 1500 hours of his personal time into the foundation of two non profit organizations for homeless veterans in the states of Ohio and Arkansas. His willingness to get involved inside of these communities and champion the rights of the economically depressed and socially disadvantaged, has been noticed by the media as well as local and state elected officials. His outgoing personality and his willingness to serve should be a model for all to follow.
That's
no ordinary soldier, and for that service to others Ken Aden was awarded the Military Outstanding Volunteer Service Medal. Ken Aden not only knows how to fight, he knows who to fight for. When notified that Ken was making this unlikely run for Congress, one of his fellow former soldiers put it simply:
Thanks for the update. I have no doubt he'll put up a good fight. I haven't met a more disciplined individual in all my years at war. Aden was an honor to have as a leader, squad mate, and friend. I love that crazy fucker.
Ken Aden was a better than average soldier, awarded the Army Commendation Medal, the Achievement Medal, the Joint Meritorious Unit Award, the National Defense Service Medal, the Global War on Terrorism Expeditionary Medal, the Global War on Terrorism Service Medal, the Commissioned Officer Professional Development Ribbon, the Overseas Service Ribbon, the Combat Infantry Badge, and the Parachutist Badge among his other medals, awards, and ribbons. An above average soldier who served our Nation for eleven years in the Arkansas National Guard and the U.S Army, through several deployments overseas, in harm's way. It should come as no surprise, then, that Ken supports strengthening programs to help veterans returning from Iraq and Afghanistan re-enter the workforce and supports offering tax credits to businesses that hire unemployed veterans. He also realizes that the VA must begin to move into the digital age and make a better attempt to speed up the benefits process for returning vets.
Ken supports bringing a VA Community Based Outpatient Clinic to Bentonville to serve residents in Bentonville and Northwest Arkansas that presently must travel to Fayetteville to visit a VA primary care physician. Now that SSG Ken Aden is
Mister
Ken Aden, he addresses everyone with the deeply instilled courtesy that would make his grandfather who raised him proud, he has more than a special place in his heart for our nation's Seniors. Protecting Medicare and Social Security rank right up there with protecting veterans. He knows that what the citizens of Northwest Arkansas need are
jobs
. He thinks building wind turbines right there in the district would not only be a source of jobs, good jobs, but of sustainable, renewable energy. Working himself for barely more than the minimum wage, he knows we need real jobs, with livable wages. But enough of me going on about Ken's accomplishements by the ripe old age of 33, let the man speak for himself for less than a couple of minutes, taken from a local community access television interview.
The man can read, and he does, not just books that help him better understand the intergenerational connection, between veterans, between young people of his generation and the ones before, but also political biographies, from both sides of the aisle. Real newspapers, that he can name, that keep him in touch with the issues there on the ground in the district he deserves to represent. Running for office in Arkansas, it couldn't hurt to know more about the most successful Democrat from Arkansas in quite some time, and being a military man Ken understands the importance of knowing your opposition, to understand how the other side thinks. He might have been Staff Sergeant Aden and not General Petraeus, but they both know a little Sun Tzu. That local access interview is fascinating, and allows you to see into the heart and mind of an electable young Democrat, but it's far too long to embed in its entirety here. For a real look at Ken Aden, to hear his views on a wide range of issues, the entire interview is posted to Youtube, where you can find Part 1
here
and Part 2
here
. Taken together they run a little over a half hour, obviously too long to embed. Click those links and see one of the best local access tv interviews you'll ever watch. Ken's on Facebook as well, of course, with the group
Arkansas For Better Government
whose mission statement reads
The mission of Arkansas For Better Government is to bring together people from across a spectrum of views, into a true community where they may see each other as fellow human beings, share ideas, and reach some understandings. This group will not become an echo chamber for any point of view. We are challenging ourselves and others to let go of pre-...conceived notions, and we seek and give mutual support in the effort. We cannot be all things to all people, but we want to be something important to those who choose to join us.
Ken has his official campaign
website
where you can learn even more about this proud Progressive who wants to serve the people of Northwest Arkansas. Check out his views on a wide range of political issues. I'm sure you'll be convinced that the people of Arkansas will benefit from his representaion, as the House Democratic Party will benefit from one more member as we return to the Majority. There's two things about Ken. If you viewed the entire video you already know that Ken is solidly in the 99%. In fact, even as he is running fo Congress he continues to work at his $7.75 per hour security guard job. The other thing is that in speaking with Ken I can't help but hear the pride with which he describes his membership in the
82nd Airborne Division Association
those of you who know about such things will recognize that 82nd Division insignia on his sleeve. Maybe you even knew that the AA on the patch stands for the unit's nickname, the All American Division. So I'd like to ask each and every one of you to do me a favor, do Ken and the people of Northwest Arkansas a favor, help rebuild the Democratic majority in the House, and send Ken a contribution. There's a
Donate
link on his campaign page. We're all familiar with the tradition of adding .01 to campaign contributions to indicate that they came through the netroots. Let's go that one better, whether it's $10, $20, or better yet $100, make it $10.82, or $20.82, you get the idea. Let's honor the 82nd Airborne. Let Ken Aden know that he has friends who might not be willing to jump out of airplanes with him, but we're certainly on board for the flight.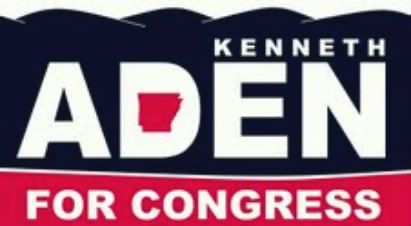 ---
Like what you read? Chip in, keep us going.
---