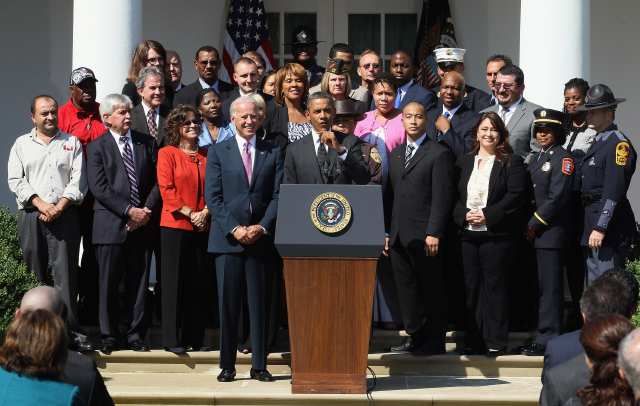 Yesterday, President Obama, surrounded by teachers, construction workers, firefighters, small business owners, veterans and police officers announced in a Rose Garden appearance holding a copy of his $447 billion American Jobs Act bill he introduced during the join session last week, called on Congress to pass this important urgent legislation "immediately" while seeking the public to put pressure on lawmakers.


Please call your SENATORS AND REPRESENTATIVE today and tell them to PASS THE AMERICAN JOBS ACT BILL!
To recap and briefly highlights what the President's Jobs Act includes and how it will help boost job creation and the slowing economy, I have highlighted most of the key notable items the President has proposed below :

1)

Cuts businesses payroll tax in

half

to 3.1% (A $65 Billion payroll tax holiday) on their first $5 million in payroll in 2012 which covers about 98% of small business.

In addition, a complete payroll tax holiday if they hire new workers or if they raise workers' wages by up to $50 million above the prior year. 2) Provides employee

payroll tax holiday for 160 million workers

that would halve the tax rate to 3.1 percent in 2012 which is one-year extension worth $175 Billion, providing a $1,500 tax cut to the typical American family.

3) A tax credit of $4,000 to employers for hiring long-term unemployed workers.

4)

Extends a 100 percent expensing tax break for companies

who invest in plant and equipment allowing them to take immediate tax deduction.

5)

Reforms regulations

to help facilitate access to capital for entrepreneurs and small businesses.

6)

Increases hiring tax credits for veterans from $5,600 to $9,600

to encourage the hiring of unemployed veterans.

7)

Ensures that up to 280,000 teacher are not laid off work

while keeping cops and firefighters on the job.

8)

Modernizing and renovating at least 35,000 public schools

across the country

9)

Invests in infrastructure and Infrastructure Bank

to modernizing roads, rail, airports and waterways while putting hundreds of thousands of workers back on the job.

10)

A $49 billion, one year extension of unemployment benefits

to prevent 5 million Americans looking for work from losing their benefits.

11)

Allows Americans to refinance their mortgages at today's near 4 percent interest rates,

which can put more than $2,000 a year in a family's pocket.

Read a

complete overview of the American Jobs Act.
Please call your SENATORS AND REPRESENTATIVE today and tell them to PASS THE AMERICAN JOBS ACT BILL!
President Obama was joined by Vice President Biden called on Congress pass the American Jobs Act right away:
Transcript of the Remarks by President Obama on the American Jobs Act
---
Like what you read? Chip in, keep us going.
---