If we read what has been said about our President and this Administration lately, it seems like the obituaries for the Obama presidency is already written.
WRONG
!
It also seems like the Obama Administration does not have friends in the MSM as the President is always second guessed, attacked, belittled and shredded into pieces in a 24x7 news cycle with many misguided analysis. I am not about to even talk about some of these people who nonetheless have it for him regardless of what he does.
However, it is easy to despair and feel sorry for ourselves because of the negativity we see and all around us. So, the only remedy is to double up by with our ACTIONS. Indeed, action speaks louder than words.
I have created
The "Yes We Can" Pragmatists Fundraising Page
using the OFA tool to raise $10,000 towards the Obama/Biden 2012 re-election. I hope those of us who are capable to give can chip-in what we can to meet this fundraising goal. Let us rally the troops and show the strength of our solidarity by contributing what we can afford.
Spread the word to all of our progressive brothers and sisters in other online community to have them participate and organize with us in this fundraising effort.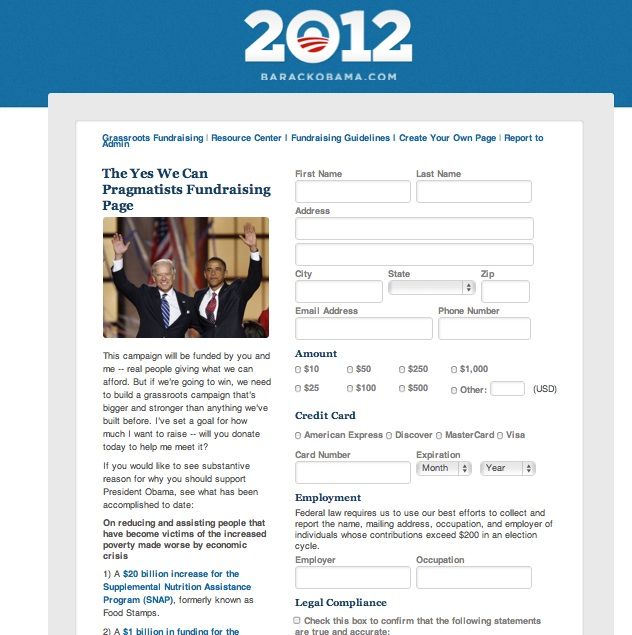 The purpose of this fundraising is to strengthen the financial position of the Obama/Biden 2012 campaign since it will be the most contentious Presidential race in history. Further, we need to be united to show our strength because I hear a lot of despair and a feeling of withdrawal from some strong advocates of this Administration within some online communities because of the many manufactured outrage we hear day in and day out. In fact, some people have departed some progressive communities because they don't find them progressive to say the least.
While I understand the feeling of withdraw and giving up, the most impact we will make in shaping the future of our country is when we are united. If we don't have a lot to agree on, we certainly have one important thing we can certainly agree on and that is ELECTING A DEMOCRAT for the Presidency. Wherever you are at, whichever community you have just about had it with, I think it is important that we are a united Democratic voice to shape the message and that means
we have to seek out each other and organize to keep on keepin' on
. After all, "we are the change we have been waiting for" and the only way we can pull a victory to effect change is if we stick together and keep our eyes on the prize.
It is then our responsibility to do what we can to change the future of this country for a better America
by our actions rather than just by what we say
. What is being said lately is not pretty. However, it is often only heard by those of us who are very involved in politics. As such, there is a lot of work ahead of us to reach out to many folks to help inform them of what the Obama Administration has accomplished in the last two and half years and what the Republicans have stored for us if we let them take over the Presidency.
We owe it to ourselves and the future generation to not let down but stand tall and fight. We owe it to those who fought before us to pave the way so that we can enjoy the freedom earned through their struggle. As MLK put it:
Change does not roll in on the wheels of inevitability, but comes through continuous struggle. And so we must straighten our backs and work for our freedom. A man can't ride you unless your back is bent.
Let us show what we can do by our actions and spread the word about our fund raising goal.
The Obama/Biden 2012 re-election campaign is just kicking off and has already accomplished some impressive numbers closing the month of June
with nearly 500,000 donors and just shy of 700,000 donations
as our own Deaniac83 reported. If you have not yet signed up at
Organize For America (OFA)
, GET INVOLVED. The risk of not being involved now more than ever is very consequential come the 2012 election and I urge all in the community to sign up at OFA and organize using easy to use tools that can connect you with your neighbors and community organizers to effect change.
GET INVOLVED ---- GET INVOLVED ---- GET INVOLVED


You in?
---
Like what you read? Chip in, keep us going.
---