Last year, President Obama finalized a new fuel economy standards that will require Automakers to meet a fleet-wide average of
New Gas Mileage Standards at 35.5 MPH
by 2016.
Today, with all the debt ceiling drama going on, President Obama, yet again, has come through to add another major accomplishment to his list of achievement pushing progressive measures to ensure that our environment is protected, consumers save money on gas and reduce the United States' dependence on oil, with his Administrations' latest agreement with the auto industry leaders, including the heads of General Motors, Chrysler, Toyota's U.S. arm and the United Auto Workers union, by announcing new round of fuel economy standards for cars and trucks sold in the United States that would almost double the average mileage by 2025. Yes, the figure is 54.5 mpg in 2025.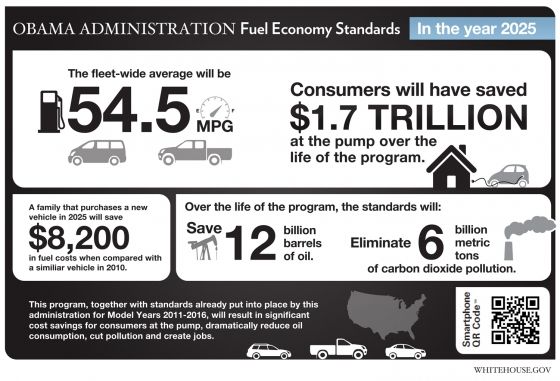 Yes, the figure is 54.5 mpg in 2025.
According to the
plan
, these new standards will cover cars and light trucks for Model Years 2017- 2025, increasing the combined fuel economy of all cars to 54.5 mpg in 2025.
THE OBAMA ADMINISTRATION FUEL ECONOMY STANDARDS FOR Model Year 2011-2025 will provide the following benefits:
1) Saves consumers at the pump
- consumers will save an estimated $1.7 trillion dollars in real fuel costs over the life of their vehicles.
- By 2025, the standards are projected to save families an estimated $8,200 in fuel savings over the lifetime of a new vehicle, relative to the Model Year 2010 standard.
2) Cut oil dependence
- As our cars and trucks become more fuel efficient, we will need to use less oil. Over the life of the program, the standards will save an estimated 12 billion barrels of oil – nearly four years' worth of consumption by light-duty vehicles at current levels.
- By 2025, the standards for MY 2011-2025 will reduce oil consumption by an estimated 2.2 million barrels a day – more than we import from any country other than Canada. As the vehicle fleet turns over and older vehicles are replaced with more efficient ones, the oil savings from these standards will grow, ultimately reaching over 4 million barrels a day – nearly as much as we import from all OPEC countries combined.
- The MY 2011-2025 standards are critical to meeting President Obama's goal of cutting oil imports by one-third by 2025, contributing over half the savings needed to meet the President's goal.
3) Protect human health and the environment
- The standards will reduce carbon dioxide pollution by over 6 billion metric tons – equivalent to the emissions from the United States last year, or what the Amazon rainforest absorbs in three years.
- The standards will protect public health by cutting air pollutants such as air toxics, smog, and soot.
To highlight the relentlessness effort to champion Green Energy to shape the future by reducing our dependence on oil while helping folks spend a little less at the pump, President Obama has
increased federal spending for research on clean fuels
to $10.8 billion; implemented
renewable fuels mandate of 36 billion gallons by 2022
, four times what we currently consume; a
$60 billion investment
in renewable and clean energy; established
EPA regulations
which require large U.S. ships to cut soot emissions by 85 percent; and developed
a Biofuels Roadmap
to determine the next steps in growing an advanced biofuels economy to meet the goal to use at least 36 billion gallons of bio-based transportation fuels by 2022 helping create more green energy jobs just to mention a few of his accomplishments.
"Now run and tell that" to the American people.
---
Like what you read? Chip in, keep us going.
---