Some good news on the Jobs front. The economy has added 216k jobs in the month of March lowering the unemployment number to 8.8%. It is obvious something is working so why do Republicans want to push a spending bill that economist Mark Zandi says will cost 700,000 jobs as Ezra Klein reported in
the Washington Post article
. Does it not seem like such an insane idea to continue to push down working Americans? It is quite inconceivable a Republican party that was shouting where are the jobs is now actually working to wipe out jobs that have been made in the last three months. And then we have John Boehner's HELL YOU CAN'T rant where he thinks getting rid of Government employees and having them stand on the Unemployment line is perfectly fine to him. They really hate America, don't they? Seriously, since January 2010, this means we have created 1.7 million private sector jobs. At 200K new jobs a month for the next 9 months, 1.8 million new jobs can be created reducing unemployment well below 8%. That is progress I can believe in and why I am grateful for the leadership of the Obama Administration while the road ahead is still rough. Don't you just love this graph?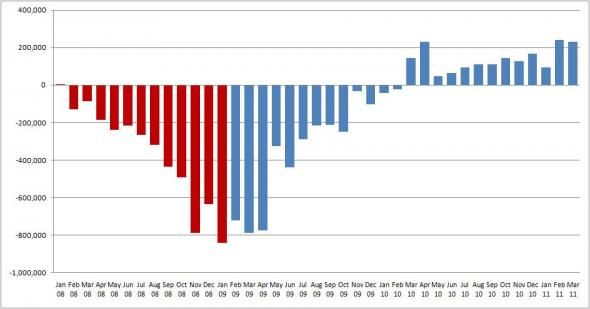 WASHINGTON (MarketWatch) -- Job growth accelerated in March, the Labor Department said Friday. Total nonfarm payrolls increased by 216,000, higher than the 192,000 gain expected by Wall Street economists. The unemployment rate ticked lower to 8.8% in March from 8.9% in the previous month. This is the lowest unemployment rate since March 2009. Economists had expected the unemployment rate to rise to 9.0%. Average hourly earnings were flat at $22.87. Economists had been expecting a 0.2% gain. Earnings are up 1.7% in the past year. The average workweek was unchanged at 34.3 hours.
---
Like what you read? Chip in, keep us going.
---