More photos of President Obama's visit in Brazil below the mishmash that includes the President's Op-Ed, a great article on the President's approach on Libya by David Cone, BBC's Mark Mardell take on the Obama Doctrine and new Public Policy Polling data and analysis.
U.S. President Barack Obama participates in a meeting with Brazil's President Dilma Rousseff (R) and Chief Executive Officers of U.S. and Brazilian companies at the Palacio do Itamaraty in Brasilia, March 19, 2011. Reuters Pictures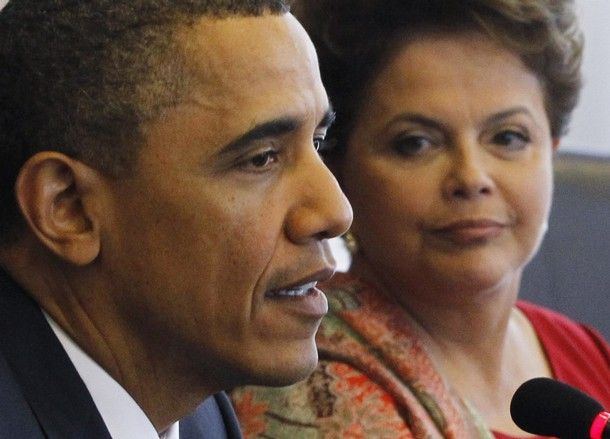 President Obama's USA Today Op-Ed:
In recent weeks, we've seen how turmoil and tragedy around the globe can affect our own prosperity and security; how events abroad often have implications for everything from markets on Wall Street to families' wallets on Main Street. And as a nation, we will continue to do everything we can both to promote stability and democracy in the Middle East and help the people of Japan recover from the devastating earthquake and tsunami. But in this increasingly interconnected and fiercely competitive world, our top priority has to be creating and sustaining new jobs and new opportunities for our people. Lately, we've seen signs that we're moving in the right direction. Our economy added nearly a quarter of a million new private sector jobs last month, and the unemployment rate is at its lowest level in nearly two years. And to keep that progress going, we've got to keep competing for every new job, every new industry, and every new market in the 21st century. That's one of the reasons I will travel to Latin America this week — to strengthen our economic relationship with neighbors who are playing a growing role in our economic future.
@ @
The era of America "the bully" is over
as the President's approach has shown many times over now that the way America is going to effect change on international crisis is via building a coalition and not with the "
you are with us or against us
" threat.
David Cone: Libya: Obama Crafts the Anti-Bush Doctrine
That is, we're not cowboys. This will be, Obama suggested, true multilateralism—one including Arab nations. His administration and the governments of France and Britain had quickly guided a forceful resolution through the Security Council (with China and Russia abstaining), and the United States, Obama noted, would be "enabling our European allies and Arab partners to effectively enforce a no-fly zone." US leadership, yet European and Arab action. He added, "The United States is not going to deploy ground troops into Libya." Noting that "our British and French allies, and members of the Arab League" will take a lead role in enforcing the resolution, Obama declared, "This is precisely how the international community should work, as more nations bear both the responsibility and the cost of enforcing international law." That is precisely the opposite of how the neocons of the Bush-Cheney crowd viewed the world. They were not interested in tying their strategic desires to international law or in developing a global order in which the United States would not be the top-dog decider and enforcer. Obama went further to distance himself from his predecessor:

I want to be clear: the change in the region will not and cannot be imposed by the United States or any foreign power; ultimately, it will be driven by the people of the Arab world. It is their right and their responsibility to determine their own destiny.

That was not the operating premise of the Iraq war.
@ @
BCCs Mark Mardell: The Obama doctrine: The limits to American power
But I think we are seeing something new. He is using a crisis thrust upon him to set out an Obama doctrine of sorts, to make a statement about America's relationship with the world. While he is in charge, he is saying, America will not go it alone, will set limits on what it does, and won't impose its will. Some will not like this, and the world will find it difficult to adapt to a president who almost seems determined to lead from behind. The Obama doctrine is a tightrope walk: Acting, but within limits, leading only as a first among equals.
@ @ He is still Americans choice according to
Public Policy Polling data:
Voters are evenly divided on Obama with 47% who think he's doing a good job and 47% who are unhappy with his performance. His numbers break down in a predictable fashion. Democrats (82% approval) love him, Republicans (86% disapproval) hate him even more than the Democrats love him, and independents (46/47 spread) split almost right down the middle. It would be hard to characterize the attitude of the overall electorate toward Obama right now as anything other than 'mixed feelings.' Voters don't have mixed feelings about the Republican candidates though- they pretty universally dislike them. Mike Huckabee's favorability comes out the best at a -7 spread (35/42). That's followed by Mitt Romney at -12 (32/44), Tim Pawlenty at -18 (15/33), Herman Cain at -20 (9/29), Sarah Palin at -22 (35/57), and Newt Gingrich at -31 (26/57). It's a sign of just how much of a disaster the rollout of Gingrich's candidacy was that he's now managing even worse numbers than Palin. The result of the unpopularity of the Republican candidate field is that even if voters are closely divided on Obama, they'll still take him when they have to choose between him and any of the GOP hopefuls. Huckabee and Romney poll the best, trailing Obama by 5 points at 48/43 and 47/42 respectively. Each of them would at least make things a little bit more competitive than John McCain did- perhaps take back a North Carolina or Indiana and reduce Obama's electoral vote margin. Against any of the other Republicans at this point though Obama would build on his 2008 win. He leads Gingrich by 11 points at 50-39, Pawlenty by 14 at 47-33, Palin by 15 at 53-38, and Cain by 18 at 47-29.
@ @ Photos of
The President in Brazil
courtesy of public domain AP and Router pictures.
US President Barack Obama with first lady Michelle Obama and daughters Malia and Sasha on the way to Brazil and during their airport arrival in Rio de Janeiro, Brazil, Saturday, March 19, 2011.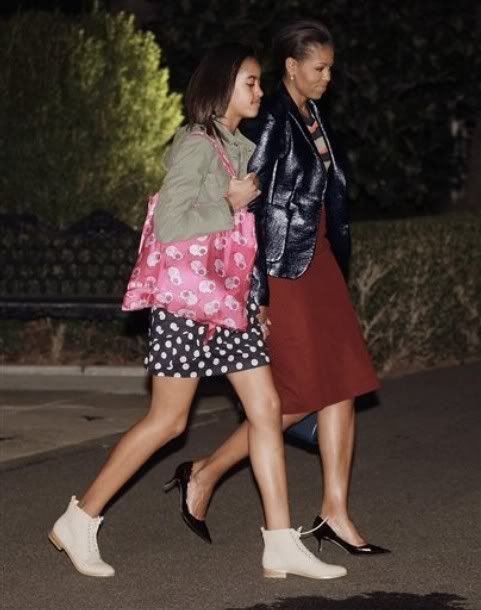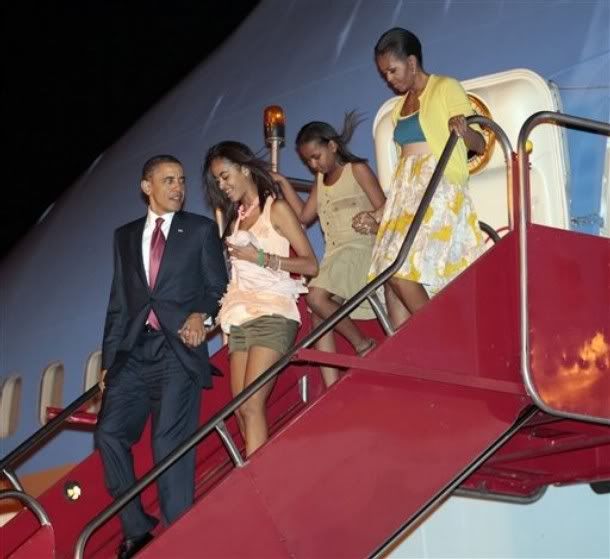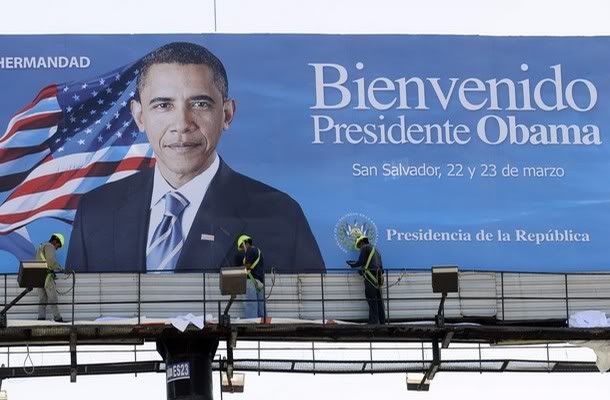 US President Barack Obama with first lady Michelle Obama and daughters Malia and Sasha arrival at Palacio do Alvorada in Brasilia, Brazil to meet Brazil's President Dilma Rousseff on March 19, 2011.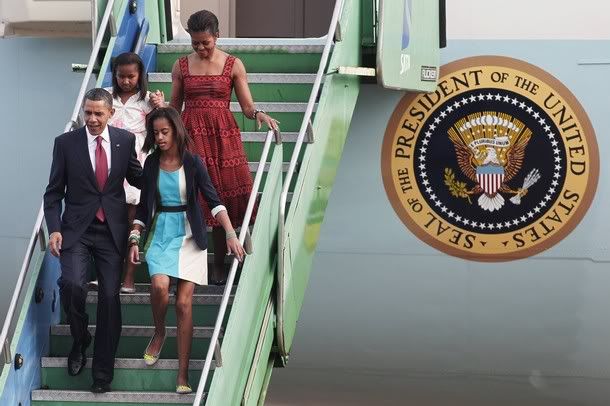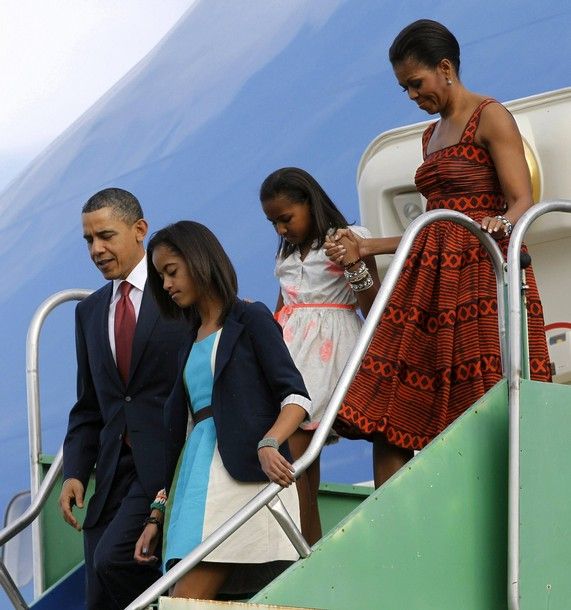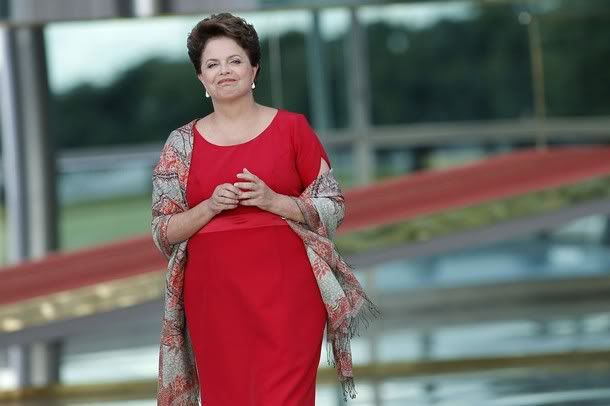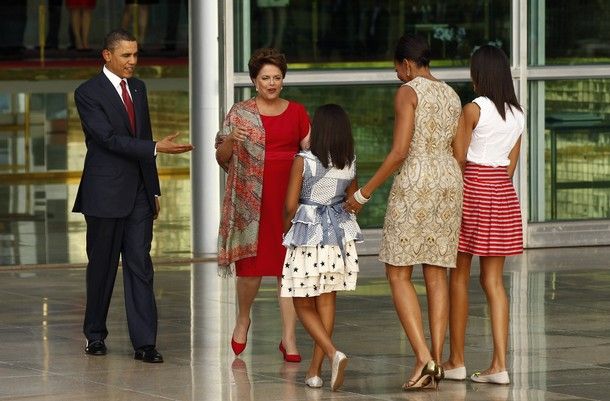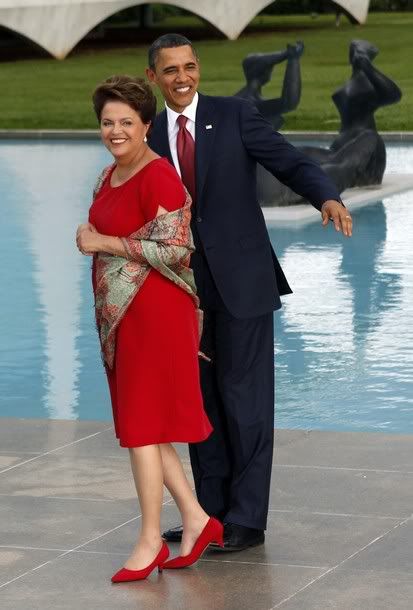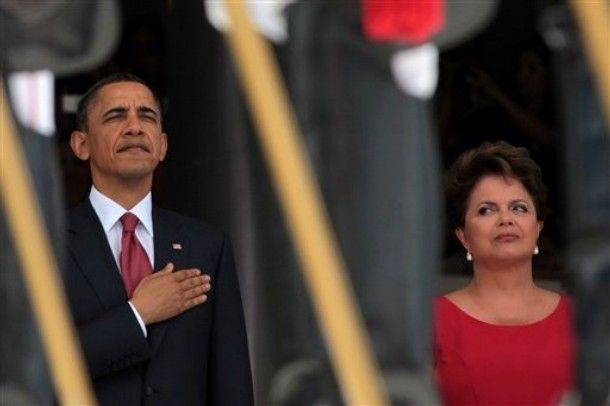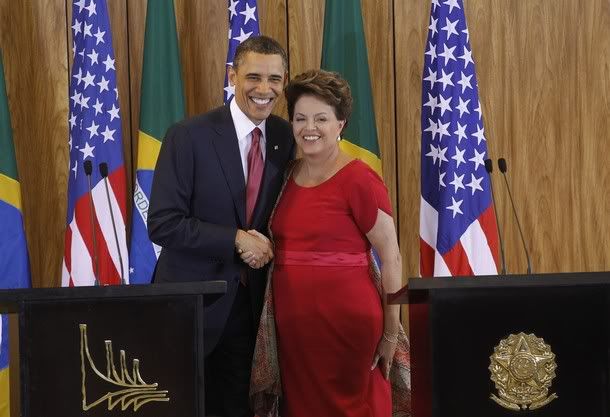 Pictures of U.S. President Barack Obama and Brazilian President Dilma Vana Rousseff at the meeting with US-Brazil CEO Forum at the Palacio do Itamaraty in Brasilia, Brazil, Saturday, March 19, 2011.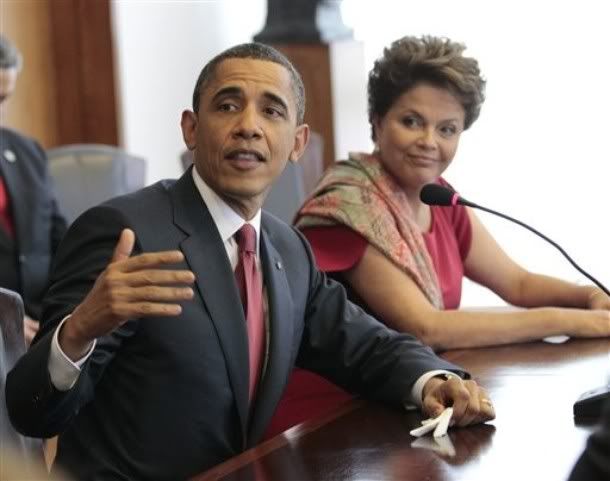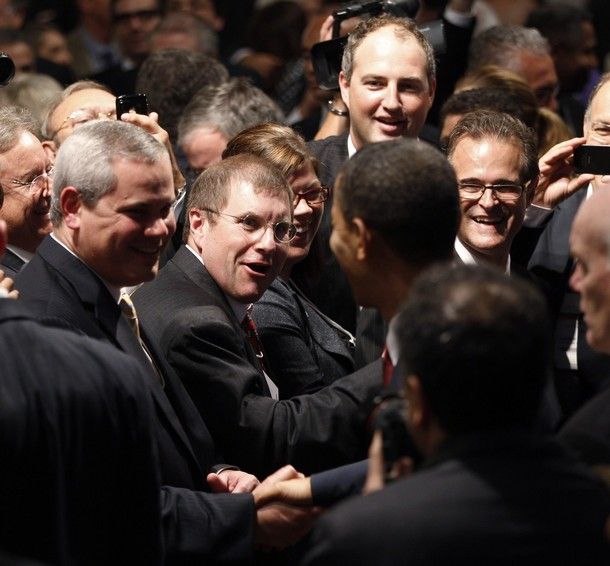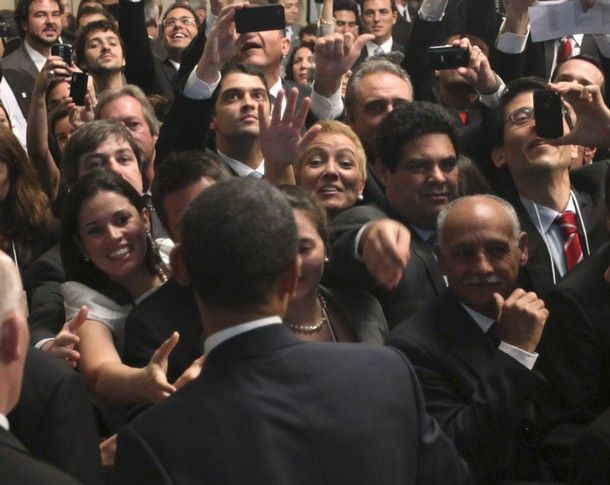 U.S. President Barack Obama and Brazil's President Dilma Rousseff are mobbed by primary school children as they arrive for a meeting at Planalto Palace in Brasilia March 19, 2011.
U.S. President Barack Obama, first lady Michelle Obama and their daughters meeting and watching a performance by children during their visit to the Ciudad de Deus Favela neighborhood in Rio de Janeiro March 20, 2011.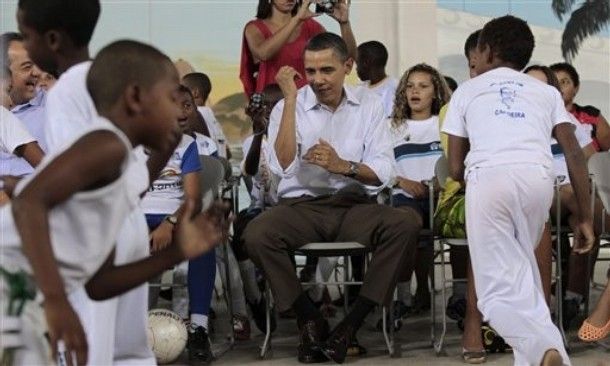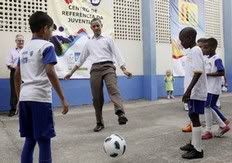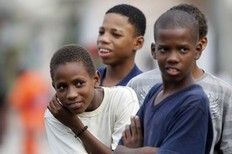 YES WE CAN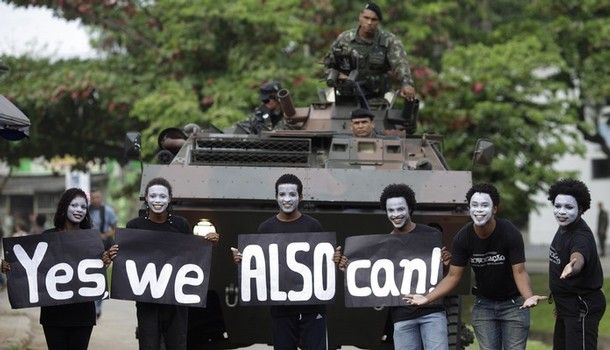 ---
Like what you read? Chip in, keep us going.
---