President Obama has kicked off his new program called
Advise the Advisor
to stay connected and allow more access to exchange ideas between average Americans and the Administration's advisors. The President has been one of the most inspiring personalities in modern day politics and is trying a lot of new things to listen to new ideas to push our country to be the first inventors, creators and thinkers enabling participation in our Democracy. Advise the Advisor is:
a new program to help senior staff at the White House stay connected to the American people. Think of this as your direct line to the some of the President's senior advisors at the White House. Here's how it works: a member of the President's senior staff will post a short video to let you know what they are working on at the White House and give you an opportunity to give us your advice, feedback and opinions about key issues
Pretty simple ha? Catch this video where David Plouffe explains the program focusing on innovation and requesting your participation:
It would be a hard miss if voters can't see that this President invests his time and energy in American people listening to what we have to say either through reaching out in public forum, by traveling around the country and speaking to voters in person, by holding many town-hall types of rallies, reading letters from Americans in a daily bases(10 letters a day, 7,300 of them already in his first two years), through making his advisors available and making the Whitehouse as transparent as possible to opening the political process to the public. President Obama is continuing to show us his best-known qualities by staying close and in arms length listening to the voices of the outsiders of the political elites regardless of how much he is chastised by pundits for the approaches he takes to problem solving. Advise the Advisor is another opportunity to connect, to share our ideas and contribute to how we can get American moving forward. I have always thought of the President as someone who is a very steady listener and at time very complicated about how he goes to making the many judicious quality decisions he makes but in the end his decision comes down to how it will benefit the American People indiscriminately. His commitment to his job was never in doubt in my 3 years following him in that he is and has always been on the People's side and his record can speak for itself. I recall during the campaign when McCain was running around with his tail in between his legs suspending his campaign trying to cancel the third debate because of the financial crisis in September of 2008. Then Presidential candidate Obama said about McCain's theatrical campaign maneuver, "
A President has to be able to do more than one thing at a time
" making McCain crawl in shame. Who would ever forget that line! This President is indeed doing more than 10 things at a time and if his accomplishments (
see below
) are any indication, it can't be disputed. I am very grateful that in this difficult time we have a President who build people's confidence and hope with all his creative ways to connect with average Americans and advancing their cause. However, I would hope that Democrats of all walks in life would continue to highlight the many good things that are being accomplished and stop itching to always highlight only the doom and gloom, missteps, fabricated outrage about usual projections and speculations because if we are going to advance our common interest, we need to hold it together or else become irrelevant. Visit
Advise the Advisor
for the first kick off information exchange channel on Innovation by contributing your observations to the following question:
* How is American innovation affecting your community? * What are the obstacles to innovation that you see in your community? And what steps can be taken to remove them?
=================================================================
If anyone has missed the DOL's Adjusted unemployment rate for Jan 2011, check this out. It is down to 9%: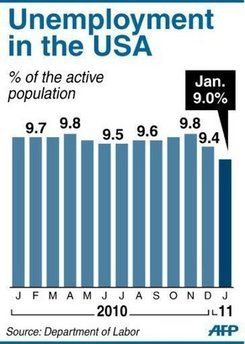 ==================================================================
Some videos to keep us all reminded about what has been accomplished:
Summary of the first year (watch @4:00 mark - 93% vs 96.7% success rate ever by any President)
More...Part 1 - a must watch
Part 2
A different perspective from different source on the two years of Obama's Presidency:
If you haven't had enough, well be my guest:
---
Like what you read? Chip in, keep us going.
---