There are these memes that calls out on the Obama Administration as an Administration that doesn't care about the poor or the "Black poor" and Obama is not fighting enough to reduce poverty to help low income Americans. I just don't buy it. It seems like a Rovian Strategy - if you continue to repeat it, it will stick and destroy. I ain't having that so I will highlight what this Administration is doing to fighting poverty.
According to Census Bureau
, one in seven Americans household(44 million) are now living at poverty level, living at $22K or less a year. This makes the increase in poverty rate during the Obama Administration for 2009 from 13.2% to 14.3%, an increase of almost 4 million people living in poverty. Assuming there are
2.55 people
in a household, it means the lose of
1.57 million jobs out of the 5 million
lost during 2009 has
most likely
contributed to the increased level of people living in poverty.
As of 2009, 26% of African Americans, 25% of Hispanics, 12% of Whites and 13% of Asians are living at poverty level. Census also reports that, the child poverty rate and the number in poverty increased by 2.7 percentage points and 2.1 million between 2007 and 2009. So, what are some of the notable things President Obama has been doing to tackle Poverty since there seems to be a concerted effort in some blogs to undermine what has and is being done but rather more attention is being given to the assertion - Obama does not care for the poor meme - by some who continue to misinform because either they don't know the efforts or are intellectually dishonest and disregarding the truth.
As part of the American Recovery and Reinvestment Act and the the Patient Protection and Affordable Care Act, the Obama Administration has made a broad and significant investments to help reduce and assist people that have become victims of the increased poverty made worse by economic crisis.
1) A
$20 billion increase for the Supplemental Nutrition Assistance Program (SNAP)
, formerly known as Food Stamps. 2) A
$1 billion in funding for the Community Services Block Grant (CSBG)
that is intended to revitalize low-income communities via "Job training and placement assistance", "Financial literacy programs", et al, to helping families become self-sufficient. 3) A
$2 billion in new Neighborhood Stabilization Funds
that will allow ailing neighborhoods be kept maintained. 4) A
$1.5 billion in Homelessness Prevention Funds
to keep people in their homes and prevent homelessness. 5) A
$5 billion increase for the Weatherization Assistance Program
to help low income families save on their residential energy expenditures by making their homes more energy efficient. 6) A
$4 Billion program, The Healthy, Hunger-Free Kids Act of 2010
, "authorizes funding for federal school meal and child nutrition programs and increases access to healthy food for low-income children." 7) As part of the HCR bill,
subsidies will be available to the uninsured and families with income between the 133 percent and 400 percent
of poverty level($14,404 for individuals and $29,326 for a family of four). 8) Estabilished Open Doors
to end the 640,000 men, women and children who are homeless in America by 2020
. 9)
Increased the amount of federal Pell Grant awards
so that funds are available to those with less access to have opportunity. 10) Provided
$510 Million
for the rehabilitation of Native American housing. 11)
Expanded eligibility for Medicaid
to all individuals under age 65 with incomes up to 133 percent of the federal poverty level ($14,400 per year for an individual). 12)
Providing assistance to low-income workers through the Earned Income Tax Credit
giving millions of working families the break they need. 13) Education being the way out of Poverty,
kicked off the "Race to the Top", a $4.3 billion program
, that rewards via grants to States that meet a few key benchmarks for reform, and states that outperform the rest. These are just a few of what are notable actions that have been taken by this Administration. The commitment of this Administration to fighting poverty can not be mistaken even under the circumstances we live in today, which is a dismal economy that is trying to catch its life line back in the game. Barbara Blum, former President, MDRC and former Commissioner, New York State Department of Social Services notes about the approach this President has taken in the article,
Obama's Quiet Campaign to Fight Poverty
:
This disturbing increase [in poverty level] reflects the ongoing fallout of the economic downturn. But the fact is that the statistics would have been worse had it not been for a concerted effort by the Obama administration to ease poverty—an effort that deserves more attention. This quiet campaign for change has three key planks: building human capital, enforcing wage and hour standards, and providing income-enhancing benefits. //Snip Building a better-educated and stronger workforce is the goal of such initiatives as the "Race to the Top" K-12 education reform effort and the significant federal investment in the nation's community college system. The overhaul of the student financial aid system and implementation of the Post 9/11 GI Bill are key steps toward reaching the President's call for Americans to obtain at least one year of college or vocational training—not only for themselves, but for the good of the country's economy. At the Labor Department, Secretary Hilda Solis has made enforcement of wage and hour laws a priority, recognizing that many employers fail to follow them, which can cost a typical low-wage worker an estimated $2,500 in annual earnings, according to the Interfaith Justice Center. Recent enforcement actions in the poultry and health care sectors have helped thousands of low-wage workers recoup rightfully-earned income. And the administration is working to implement many of the recommendations of the President's Advisory Council on Faith-Based and Neighborhood Partnerships to remove barriers that prevent low-income families from obtaining critical benefits, including SNAP (the Supplemental Nutrition Assistance Program, formerly food stamps), child nutrition subsidies, and the Earned Income Tax Credit—economic supports that can be critical to a family's economic survival.
In a nutshell, what Ms.Blum is saying is that there is a lot that is being done and in fact she notes that this administration has done by far more in "easing poverty" than any administration since the mid-1960s. Is there more that ought to be done? Hell yes! There is more to be done in many areas to improve and create economical opportunity for Americans living in poverty and then some. However, the effort to date by this Administration while it may not fix poverty in its entirety, it speaks loud to the efforts that it is doing its best for low income Americans under the current economical conditions. So, next time when critics go spreading lies and misinformation about how this Administration is lacking commitment on poverty issues, smack them with the truth and may be if they have the audacity to hear or see the truth, they will recognize the effort being put. PS: No one is contesting here that there needs to be a tax increase on the rich and hopefully when the current extension expires in two years, we will see that increase. Just FYI! ================================================================= Just wanted to share one picture that says what I want to say:
A woman holds up signs of support as US President Barack Obama's motorcade drives past near his vacation home in Kailua, Hawaii, December 31, 2010. Obama is spending the last days of the year vacationing with his family in Hawaii. (Getty Images)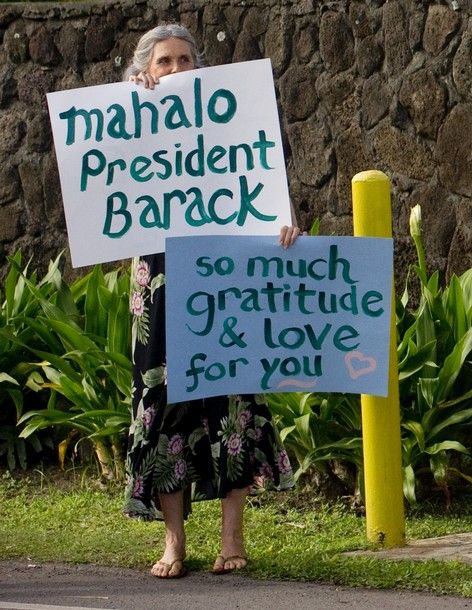 ---
Like what you read? Chip in, keep us going.
---