I am a man with great test and appreciation for a nice women dress (my wife says so) and what Michelle was wearing last night at the State Dinner for the Chinese President Hu Jintao was out of this world and hope you enjoy the rest of the pics below the fold.
Before catching a glimpse of the knock out dress Michelle Obama was wearing yesterday, a little mishmash:
President's Ratings Climb
By JONATHAN WEISMAN And DANNY YADRON:
President Barack Obama is riding a surge of public support into next week's State of the Union address, with more Americans approving of his performance and more seeing him as a political moderate, according to a new Wall Street Journal/NBC News poll. //snip In the survey, 53% said they approved of the job Mr. Obama is doing as president, up eight percentage points from December. Forty-one percent said they disapprove of the president's performance, down from 48% last month. The poll surveyed 1,000 adults from Jan. 13-17.
If you have been lost about what has been going on at the White House in the last couple of days, look no further. The visit by the Chinese President Hu Jintao has been making President Obama and his cabinet members very busy with lots of activities. Some videos at the State Dinner, the State Department, Joint Press Conference and Meeting with Business Leaders; respectively, worth checking out if you have missed it:
China to Announce $45 Billion in US Export Deals
Pegged to today's official state visit at the White House, China will announce a series of commercial deals to purchase $45 billion in US exports, including a $19 billion purchase of 200 Boeing airplanes, a senior administration official said today.
Hey, if I can create 235,000 jobs in the United States by hosting Official State visit, I would hold as many State visits as possible every week and create as many jobs as possible while Republicans continue to undo progress. ----------------
WOT...Republicans are about to force a repeal vote in the Senate?
Exciting news! Having already wasted a day of everyone's time pretending to repeal the Affordable Care Act in the House of Representatives, Republicans are now set to force a vote on repeal in the Senate, where purely symbolic expressions of legislative sour grapes can take weeks. It was previously thought that Harry Reid would simply block a vote on repeal and that would be the end of it, but Minority Leader Mitch McConnell always finds a way. He could use "Rule 14" to bring it to the floor, for example. Or -- and this is what he'll probably do -- he could attached repeal as an amendment to something likely to pass the Senate.
I guess they have not seen this video: ---------------
On Lieberman's Exit: Some Praise His Service, Some Happy To See Him Go
By JON LENDER and DANIELA ALTIMARI The Hartford Courant:
But no such customary bouquets were tossed his way by Democrats from the party's liberal-progressive wing. Their criticism represents what polls say are the views of a enough party voters to dash any re-election hopes he may have had. "It was by constantly using the Democrats as a foil, to ingratiate himself with the Fox newscasters and Republicans, that caused bitterness," said Bill Curry, the former state comptroller and two-time Democratic gubernatorial nominee. "I never saw anyone so adept at passing off opportunism as high-mindedness." Lieberman's support for the Iraq war in the George W. Bush years, his 2008 support of Republican presidential nominee John McCain and running mate Sarah Palin, and his decision to block key proposals in the national health care bill in 2009 were among examples Curry gave to support his views.
Personally I am happy to see him disappear. While I can forgive, I would not have the heart to forget that psychotic behavior displayed sporadically (including the video below) and can't trust the man. I wonder which Joe will appear in the next two years? The one that championed the repeal of DADT or the one that embraces BOMB...BOMB...BOMB, Iran? We shall see! -----------------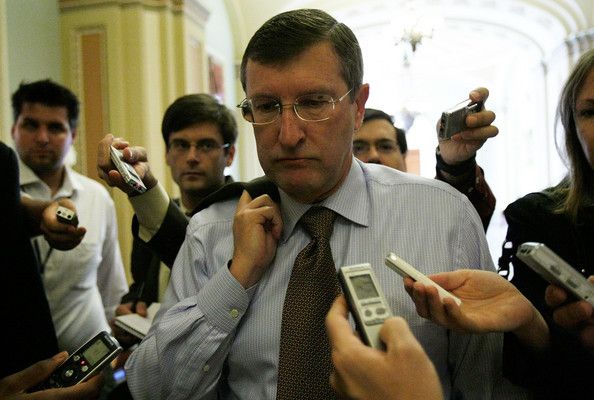 Kent Conrad to retire
By Ezra Klein Oh Well, Senator Kent Conrad is following Joe Lieberman as well but the question is, would a blue dog Democrat better than a now sure Republican seat reducing again a democratic Senate majority?
This week, Joe Lieberman and Kent Conrad both announced that they wouldn't be seeking reelection to the Senate in 2012. For a variety of reasons, Lieberman's retirement attracted a lot more attention. But Conrad's is almost certainly more meaningful. For one thing, Conrad comes from North Dakota. And North Dakota, unlike Connecticut, tilts red. John McCain won it by eight points in the 2008 election. With a presidential campaign nationalizing congressional races in 2012, it's a pretty safe bet that Conrad's replacement won't be a Democrat.
-----------------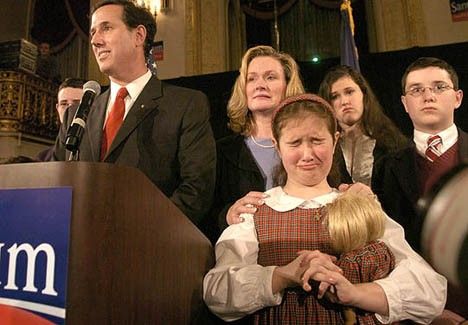 OK, Rick Santorum, A Presidential contender? Ugly!
Rick Santorum invokes Obama's race on abortion By Rachel Weiner
Potential Republican presidential contender Rick Santorum has once again demonstrated his willingness to push the envelope. In an interview with the conservative CNS News, he linked President Obama's race to his position on abortion. "The question is, and this is what Barack Obama didn't want to answer -- is that human life a person under the Constitution and Barack Obama says no," Santorum said. "Well if that human life is not a person then I find it almost remarkable for a black man to say 'now we are going to decide who are people and who are not people.'"
-----------------
How is our manufacturing sector doing?
U.S. manufacturing, viewed as a lost cause by many Americans, has begun creating more jobs than it eliminates for the first time in more than a decade. As the economy recovered and big companies began upgrading old factories or building new ones, the number of manufacturing jobs in the U.S. last year grew 1.2%, or 136,000, the first increase since 1997, government data show. That total will grow again this year, according to economists at IHS Global Insight and Moody's Analytics.
--------------------------- ...and about that
jobless claim from last week, it fell to 404,000
Applications for jobless benefits decreased 37,000 in the week ended Jan. 15, the biggest decline since February 2010, to 404,000, Labor Department figures showed today. Economists forecast 420,000 claims, according to the median estimate in a Bloomberg News survey. The number of people on unemployment benefit rolls fell, while those getting extended payments rose. Employers may be retaining workers after the economy showed signs of strengthening at the end of last year. Economic growth may need to accelerate further and encourage companies to ramp up the hiring necessary to reduce an unemployment rate that's hovering close to a 26-year high.
--------------------------- Give them confidence and jobs, and they will buy!
Sales of U.S. Existing Homes Jump More Than Estimated to Seven-Month High:
Sales of U.S. previously owned homes jumped more than forecast in December as buyers tried to lock in low mortgage rates before the economic recovery pushed borrowing up further. Purchases of existing houses, which are tabulated when a contract closes, increased 12 percent to a 5.28 million annual rate, the most since May and exceeding the highest estimate of economists surveyed by Bloomberg News, figures from the National Association of Realtors showed today in Washington. The median price dropped 1 percent from a year earlier, and the share of sales represented by foreclosures climbed.
==================================================================== Back to the Gorgeous Michelle Obama at the State Dinner (AP Photos):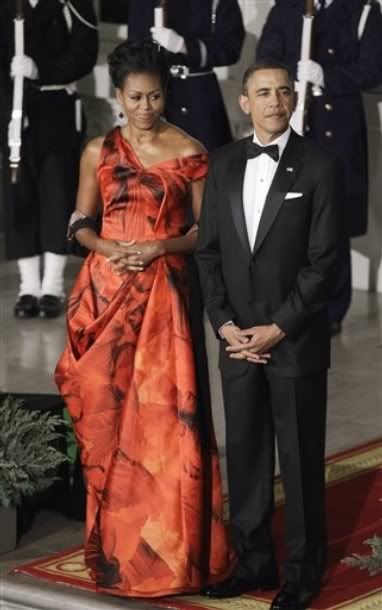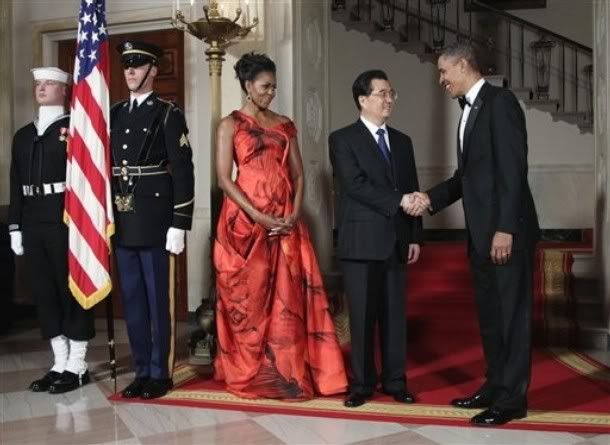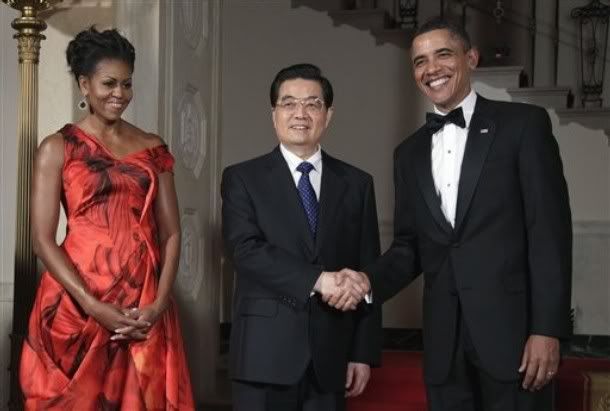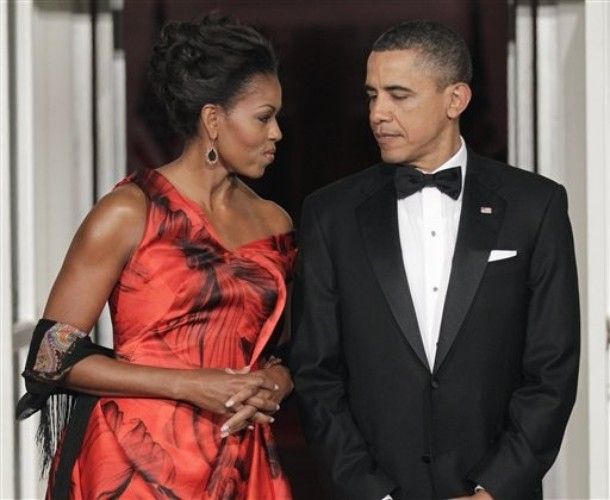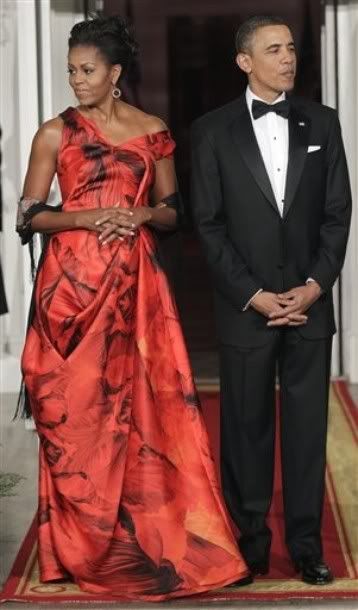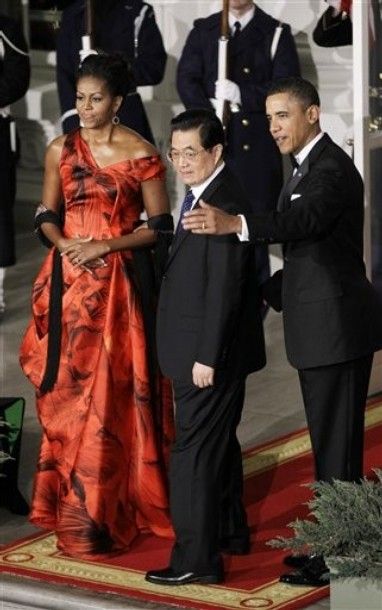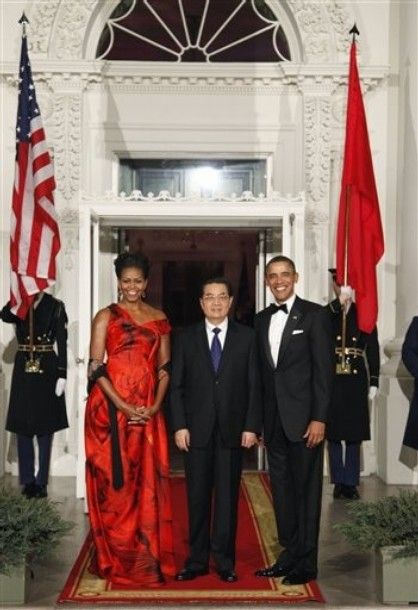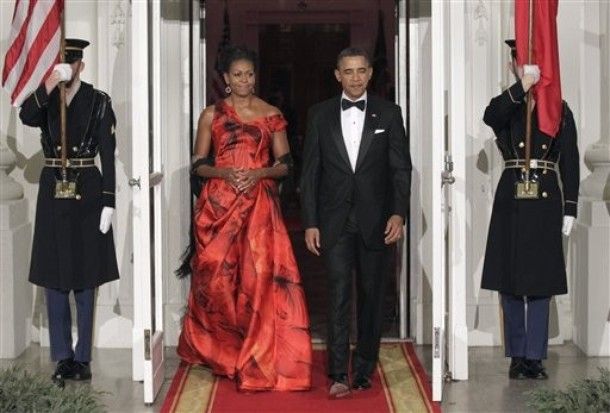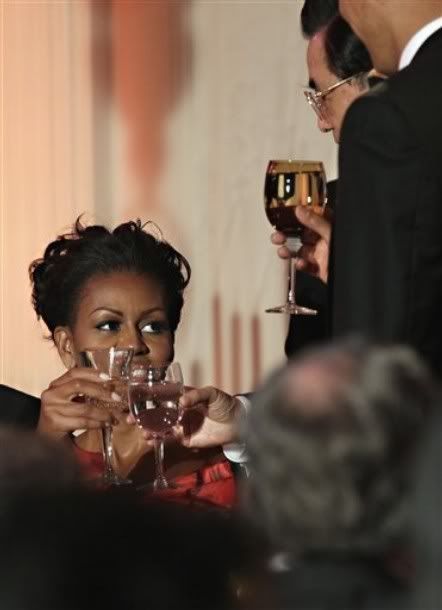 ---
Like what you read? Chip in, keep us going.
---