UPDATE 12/7/10:
The U.S. Bureau of Labor Statistics reports today that The unemployment rate fell by 0.4 percentage point to 9.4 percent in December, and non-farm payroll employment increased by 103,000.
FULL REPORT
HERE
. I am ducking for having made the prediction that we will have a much better payroll data than the 103,000 reported by BLS. I guess this time ADP's numbers have unforeseen elements, a reason to take it with grain of salt going forward but we do have a good news - Unemployment rate is down. --------------------- Since January 2009, the U.S. private sector has added more than 1 million jobs. With the December 2010 job news of 297,000 new jobs created by the private sector, it makes it the elevenths-straight month that we have seen promising private-sector job growth. According to the figures from ADP Employer Services
December 2010 National Employment Report
,
Private-sector employment increased by 297,000 from November to December on a seasonally adjusted basis, according to the latest ADP National Employment Report®.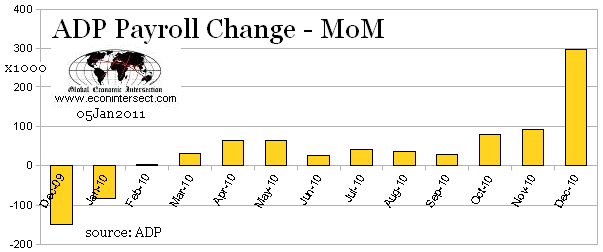 Now, I don't want to jinks myself as the official U.S. Department of Labor data comes out tomorrow but it is very likely that we should see a report with a strong jobs report beating the prediction of the low 100,000s forecast for the month of December and possibly reducing the unemployment rate to 9.7%.
If past charts of ADP and actual private payrolls from Department of Labor is an indicator (
see December 2010 National Employment Report pg 3 of 5
), as powerful as ADP is in their indicators, most often the actual private payrolls data from Department of Labor is higher than ADP's, which means it's more than likely that DOL actual new private payroll data could surpass the 325,000 mark into the high 300,000s.
This month's ADP National Employment Report suggests nonfarm private employment grew very strongly in December, at a pace well above what is usually associated with a declining unemployment rate. After a mid-year pause, employment seems to have accelerated as indicated by September's employment gain of 29,000, October's gain of 79,000, November's gain of 92,000 and December's gain of 297,000. Strength was also evident within all major industries and every size business tracked in the ADP Report. According to the ADP Report, employment in the service-providing sector rose by 270,000 in December, the eleventh consecutive monthly gain and the largest monthly increase in the history of the report. Employment in the goods-producing sector rose 27,000, the second consecutive monthly gain and the largest since February 2006. Manufacturing employment rose 23,000, also the second consecutive monthly gain. Employment among large businesses, defined as those with 500 or more workers, increased by 36,000 while employment among medium-size businesses, defined as those with between 50 and 499 workers, increased by 144,000. Employment among small-size businesses, defined as those with fewer than 50 workers, increased by 117,000.
From this report, it is easy to conclude that the
tax credit intensive to small and mid-size businesses
(see
here
also for fact sheet of incentives) is indeed stimulating the job creation we are seeing today as small and mid-size businesses account for 88% of the new private payrolls. Further the service sector industries is showing its continuing strength as it represent 91% (270K) of the jobs created in. Small and mid-size businesses account for 90% (243K) of the new jobs create within the service sector industries while large businesses account for the 10%. Jim O'Sullivan, global chief economist at MF Global Ltd. in New York, notes per
Bloomberg news
, "
the headwinds for the recovery are fading" and that
"
Companies have been pretty cautious and they've accumulated a lot of spending power, and we've seen that in purchases of equipment and software. Now they need more workers to man the equipment.
". While large businesses contributed only the 9% share of growth in December, there is greater potential for growth in the job market as many large companies are increasingly optimistic about future investment and in fact have shown
expanded activities in the month of December at the fastest pace in two decades
which will hopefully translate into positive job creation in 2011.
Gains in business investment on new equipment and growing exports to emerging economies will keep factories churning out goods in the coming year, contributing to the recovery. Evidence that consumer spending is also picking up means retailers will need to restock shelves, giving manufacturing a further lift. "The factory sector continues to be one of the consistent bright spots in the economy," Michael Gregory, a senior economist at BMO Capital Markets Inc. in Toronto, said before the report. "Businesses are continuing to invest."
All the data showing
expansion
, jobless
claims dropping
, Business Index in U.S.
increasing at a two-decade high
, the
non-manufacturing sector growing
for the 12th consecutive month, et al, are just some of the indicators that 2011 will show more than expected growth in business activities as well as a much needed recovery that will be creating jobs. More reason to be optimistic if you ask me.
---
Like what you read? Chip in, keep us going.
---