We still have major initiatives to tackle before the end of this lame-duck session but the tantrum being thrown at the DailyKos, the so called best progressive site in the blogsphere, the whining sanctuary for a do nothing crowd, sure makes you wanna change the name of this place to the Daily-whining-Kos! The environment at Daily Kos seems to be a non-stop complaining echoing chamber but what is obvious is that it ain't going to change the lives of folks many claim to be fighting for. So, dare to make some phone calls to your Senators to ask them to:
1) Repeal DADT 2) Ratify the START Treaty 3) Extend unemployment Benefits 4) Pass The Dream Act
ACTION *** ACTION *** ACTION *** ACTION
CALL YOUR SENATORS AND ASK THEM TO Repeal DADT, Ratify the START TREATY, extend Unemployment Benefits and Pass The Dream Act
Mishmash and pics below...
The POTUS Commemorating World AIDS Day:
**********************************************************************************
A red ribbon is displayed on the North Portico of the White House, Nov. 30, 2010, in advance of World AIDS Day. (Official White House Photo by Lawrence Jackson) (Official White House Photo)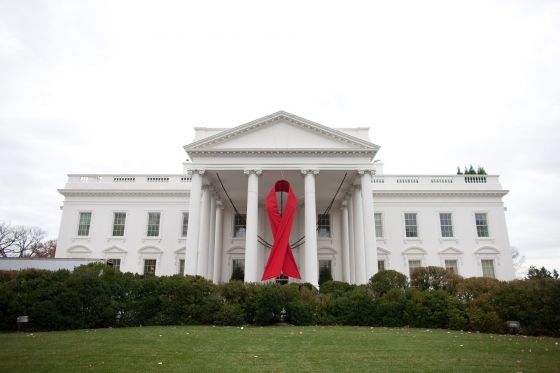 ********************************************************************************** If anyone thinks the President is homophobic or a bigot, well I suggest to look no further than the statement issued yesterday about his commitment to repeal DADT...
Obama: 'Don't Ask' Report Confirms Nation Is Ready for Change
American Forces Press Service WASHINGTON, Nov. 30, 2010 – In a statement issued today, President Barack Obama urged the Senate to act swiftly so he can sign the repeal of the so-called "Don't Ask, Don't Tell" law this year, citing the Defense Department's report as proof that the nation "can transition to a new policy in a responsible manner." Here is the full text of the president's statement: As Commander in Chief, I have pledged to repeal the "don't ask, don't tell" law because it weakens our national security, diminishes our military readiness, and violates fundamental American principles of fairness and equality by preventing patriotic Americans who are gay from serving openly in our armed forces. At the same time, as Commander in Chief, I am committed to ensuring that we understand the implications of this transition, and maintain good order and discipline within our military ranks. That is why I directed the Department of Defense earlier this year to begin preparing for a transition to a new policy. More... Also read DOD's Report of the Comprehensive Review of the Issues Associated with a Repeal of "Don't Ask, Don't Tell"
Defense Secretary Robert M. Gates and Navy Adm. Mike Mullen, chairman of the Joint Chiefs of Staff, conduct a press briefing at the Pentagon discussing the public release of the "Don't Ask, Don't Tell" Comprehensive Working Group report on Nov. 30, 2010. DOD photo by U.S. Navy Petty Officer 1st Class Chad J. McNeeley
**********************************************************************************
The President says ratifying the New START, a pivotal treaty with Russia on nuclear weapons, must happen this year. He explains that failure to ratify the treaty this year would not only mean losing our nuclear inspectors in Russia, but also undermine the international coalition pressuring Iran, put at risk the transit routes used to equip our troops in Afghanistan, and undo decades American leadership and bipartisanship on nuclear security.
President Barack Obama attends a START Treaty meeting in the Roosevelt Room of the White House, Nov. 18, 2010. (Official White House Photo by Pete Souza)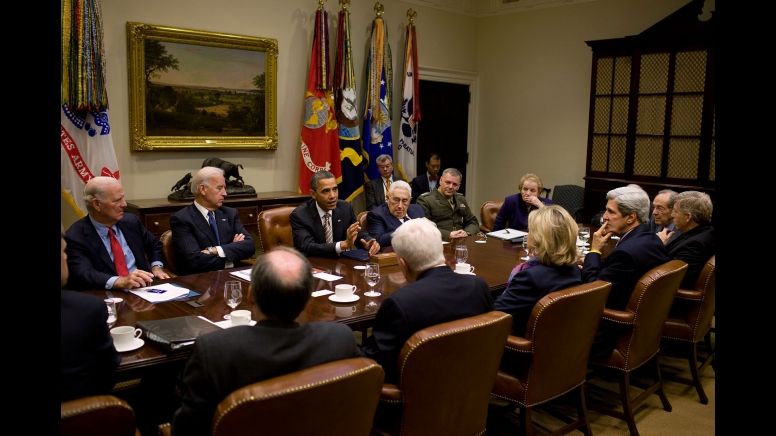 **********************************************************************************
The President on His Bipartisan Meeting: "The Beginning of a New Dialogue"
I just wrapped up a meeting with leaders from both parties. It was our first chance to get together face to face since the election to talk about how we can best work together to move the country forward. It's no secret that we have had differences that have led us to part ways on many issues in the past. But we are Americans first, and we share a responsibility for the stewardship of our nation. The American people did not vote for gridlock. They didn't vote for unyielding partisanship. They're demanding cooperation and they're demanding progress. And they'll hold all of us –- and I mean all of us –- accountable for it. And I was very encouraged by the fact that there was broad recognition of that fact in the room. snip So today we had the beginning of a new dialogue that I hope –- and I'm sure most Americans hope -– will help break through the noise and produce real gains. And, as we all agreed, that should begin today because there's some things we need to get done in the weeks before Congress leaves town for the holidays. First, we should work to make sure that taxes will not go up by thousands of dollars on hardworking middle-class Americans come January 1st, which would be disastrous for those families but also could be crippling for the economy. There was broad agreement that we need to work to get that resolved before the end of the year. Now, there's still differences about how to get there. Republican leaders want to permanently extend tax cuts not only to middle-class families but also to some of the wealthiest Americans at the same time. And here we disagree. I believe, and the other Democrats who were in the room believe that this would add an additional $700 billion to our debt in the next 10 years. And I continue to believe that it would be unwise and unfair, particularly at a time when we're contemplating deep budget cuts that require broad sacrifice. Snip I also urged both parties to move quickly to preserve a number of other tax breaks for individuals and businesses that are helping our recovery right now and that are set to expire at the end of the year. This includes a tax credit for college tuition, a tax credit for 95 percent -- a tax break for 95 percent of working families that I initiated at the beginning of my presidency, as well as a tax cut worth thousands of dollars for businesses that hire unemployed workers. We discussed a number of other issues as well, including the importance of ratifying the New START treaty so we can monitor Russia's nuclear arsenal, reduce our nuclear weapons, and strengthen our relationship with Russia. I reminded the room that this treaty has been vetted for seven months now; it's gone through 18 hearings; it has support from senators of both parties; it has broad bipartisan support from national security advisors and secretaries of defense and secretaries of state from previous administrations, both Democrat and Republican; and that it's absolutely essential to our national security. We need to get it done. More...
President Barack Obama talks with Rep. Eric Cantor, R-Va., at the conclusion of a meeting with bipartisan Congressional leadership in the Oval Office Private Dining Room, Nov. 30, 2010. Listening at right are: Sen. Mitch McConnell, R-Ky.; Sen. Jon Kyl, R-Ariz.; and Sen. Harry Reid, D-Nev. (Official White House Photo by Pete Souza)
**********************************************************************************
Deputy Assistant to the President and Director of Intergovernmental Affairs Cecilia Munoz takes questions about the DREAM Act, legislation that provides a path to legal status for youth who pursue higher education or serve in the Armed Forces.
**********************************************************************************
Bo, the Obama family dog, is greeted by several of the President's Active Lifestyle Award (PALA) achievers in the Diplomatic Reception Room of the White House, Nov. 29, 2010. (Official White House Photo by Samantha Appleton)
**********************************************************************************
First Lady Michelle Obama, with daughters Sasha and Malia, welcome the arrival of the official White House Christmas tree at the North Portico of the White House, Nov. 26, 2010. Standing with them are Chris and Brandi Botek of the Crystal Spring Tree Farm in Leighton, Pa., where the 18 1/2-foot Douglas fir was cut. (Official White House Photo by Lawrence Jackson)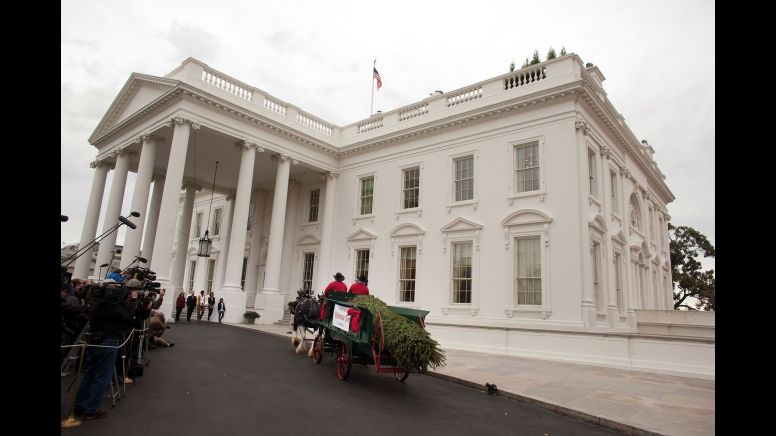 **********************************************************************************
---
Like what you read? Chip in, keep us going.
---