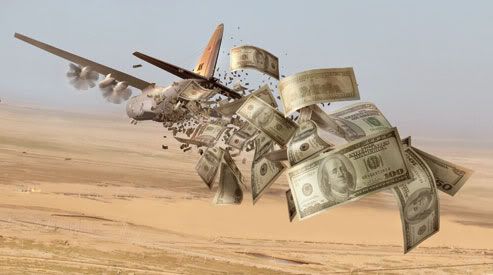 The
ARRA
Stimulus bill is often critiqued as being either too expensive (the right) or too little (a dim part of the "left"). But President Obama has made the point (as noted
here
) that being big-government/small-government misses out on whether there is smart government or dumb government ( see
this
for a description of how the Bush administration threw away billions in cash ). Economists often don't understand the complexity of how the economy works - they tend to reduce it to measures of how much money is spent or invested. There is, however, a huge difference between a government that spends money on cash that gets lost in Iraq and a government that spends money wisely. Here's Bill Clinton talking about
Obama's
compromise with the Republicans on taxes.
Thirdly, and one thing I haven't seen much about in the reports, this agreement will really help America over the long term, because it continues the credits for manufacturing jobs related to energy coming in to America. And I'll remind you, just in the last two years, there have been 30 high-powered battery factories either opened or presently being built in America, taking us from 2 to 20 percent of the world's share of that. And we're going to probably be at 40 percent by 2014. This is a really important thing, bringing manufacturing back to America, because it's a huge multiplier to create new jobs.

http://www.whitehouse.gov/the-press-office/2010/12/10/remarks-president-obama-and-former-president-clinton

This is what it was like in 2005.
Battery Manufacturers in the United States?—draws the following conclusions:

*

The U.S. battery companies opted out of volume manufacturing of Li-ion batteries, primarily because of a low return on investment compared with their existing business, the significant time and investment required from conception to commercialization, and the time and expense required to establish a sales organization in Japan to access product design opportunities and take advantage of them.
*

Labor costs were not a major issue impeding large-volume production of the cells in the United States. The cost of labor in the United States was essentially the same as for the Japanese manufacturers domestically. The Asian strategy of providing facilities and loans to establish manufacturing locally and create jobs was a more important factor.
*

The tendency could be for technological development to follow manufacturing to East Asia, as a natural consequence of developing manufacturing expertise. Primary as well as rechargeable battery production will slowly shift to China, Korea, and Southeast Asia. U.S. manufacturers pursuing other budding energy technologies, such as fuel cells, will face similar issues.
*
[...]

Not that encouraging a picture.

http://www.greencarcongress.com/2005/09/why_are_there_n.html
And in 2009.
The nearest manufacturer to the United States of lithium-ion batteries for hybrids is Johnson Controls-

Saft

's plant in

Nersac

, France.

http://spectrum.ieee.org/energy/policy/will-washington-kickstart-the-us-battery-biz
But the auto bailout put some money into
assembly

Automakers prefer nearby suppliers, to reduce risk and cut shipping costs. But while General Motors will build battery packs for its plug-in Chevrolet Volt in Michigan, the cells inside them will come all the way from South Korea, because lithium-ion cells

aren

't manufactured in volume anywhere in the United States. "It's important to be able to manufacture cells here, to control our own destiny," says Wynne. If electric drive takes off in other regions, he says, U.S.

carmakers

could be frozen out of limited supplies.
True, but assembly is not as simple as it sounds.
Traditionally, lithium-ion batteries have been expensive to produce. They need to be managed electronically to ensure safe, reliable, long-term operation. Lithium-ion battery packs are more complex and require extra assembly steps than other types of batteries, which results in a higher price tag.

For instance, they depend on an elaborate battery monitoring system that measure cells to ensure their optimum interaction. The current inside the batteries is not conducted via cables but along copper bus bars that must be welded.

[..]

Assembling lithium-ion batteries also presents new manufacturing challenges. For instance, they require dissimilar tab materials. "Assembling these batteries requires joining thin aluminum, copper or nickel tabs, often in multiple layers and to thicker (and often dissimilar) interconnects," says Matt

Bloss

, project engineer at the Edison Welding Institute (Columbus, OH).

Automation is also important to assembling lithium-ion batteries.

Brodd

has visited several battery manufacturing plants overseas and he says they are all highly automated. "If you don't use robotics and other automation technology, you can't compete," he warns.
http://www.assemblymag.com
And that complexity is the source of a lot of innovation and economic activity.
Recently I had a chance to speak with Jim

Dunlay

, vice president of engineering and manufacturing at Tesla Motors, who explained why Tesla decided to shift assembly of some of the high-tech components of its sexy Roadster electric cars from Thailand to the United States. Three years ago, back when Tesla was gearing up to begin producing the $100,000 Roadster, it thought it could save money by having the vehicle's batteries, gearbox components, and other drive-train assemblies built and tested in Thailand.

As full-scale Roadster production loomed in 2008, however, Tesla cancelled the outsourcing plan and decided to have the high-tech batteries and other drive-train components assembled at its

Palo

Alto, CA, plant. Why move production from Thailand to the high-cost Bay Area?

"It was eye–opening, the degree to which contract manufacturers don't have the background, knowledge, and experience to build lithium-ion battery packs,"

Dunlay

said. "We would have been working half the world away on a product that has never been assembled quite like this before. We needed to be able to change and iterate at a rapid pace, so building in our backyard became extremely attractive. Now we have engineering and manufacturing under the same roof."
The decision to move battery and drive-train production to

Palo

Alto has helped Tesla keep up with the expansion of its business. Besides making batteries for its own vehicles, Tesla is selling battery packs to other automotive

OEMs

, including Daimler and, under a new agreement, Toyota. That means more products, more parts and assembly processes, and more complexity.
http://blog.managingautomation.com
And then smart people came into the White House.
The stimulus bill could help address both problems. It sets aside $2 billion in grants for manufacturing advanced batteries, plus tax credits to cover 30 percent of the cost of a plant (up to $2.4 billion in total credits). This is in addition to $7.5 billion in loans authorized in a previous bill for manufacturing advanced technology for vehicles, which includes batteries. Employees for these factories could be trained as part of $500 million in funding for retraining workers for green jobs. There is also $16.8 billion going to energy efficiency and renewable energy, which will likely include money for battery research to bring down costs and improve performance.

http://www.technologyreview.com/energy/22188/
In August 2009 we were awarded the largest

ARRA

matching grant, $299.5 million, to create an advanced battery manufacturing capacity in the United States. This grant is in addition to significant incentives from the State of Michigan. This government support significantly reduces the amount of initial capital we have to invest.

Construction of our plant in Holland, Michigan is progressing as planned with battery pack assembly set to begin in August of this year and cell production starting in 2011.

We will support several important customers from this facility. Johnson Controls is the exclusive supplier for the complete battery system for Ford Motor Company's first series production plug-in hybrid electric vehicle (

PHEV

), which will be introduced in 2012. In October it was announced that we will supply batteries for the Ford Transit Connect commercial van in 2010 in collaboration with Azure Dynamics. We are working with Azure to supply batteries for other commercial delivery trucks that will start in production in 2010.
http://www.johnsoncontrols.com
The new plant in Livonia, Mich. is expected to expand A123's manufacturing capabilities by up to 600MW hours per year when fully operational, contributing to the company's plan to expand global final cell assembly capacity to more than 760MW hours annually by the end of 2011. The opening of the Livonia factory comes just over one year after A123 was awarded a $249 million grant from the U.S. Department of Energy (DOE) as part of the American Recovery and Reinvestment Act to help the company execute its strategy to ramp up U.S. manufacturing capabilities to meet increasing, market-driven demand for its innovative technologies.
[...]
"The opening of our Livonia facility is a significant milestone and confirms that we are accomplishing our stated objectives that accompanied the DOE grant. Bringing this factory on line in just over a year is a testament to our technology innovation and strategic plan to ramp up manufacturing, but it also speaks to the maturity of the market—without significant customer demand for our products today, a capacity expansion of this magnitude would not be possible," said David

Vieau

, president and CEO of A123 Systems. "We are grateful to the DOE, the state of Michigan and everyone else who helped make this vision a reality. Over the next several years, we expect to create thousands of jobs in greater Detroit and plan to continue our expansion in the area as we do our part in helping the U.S. emerge as a global leader in the production of advanced lithium ion batteries."

A123 will focus on manufacturing prismatic cells and systems at the new 291,000-square-foot Livonia facility. The factory is designed to enable the complete production process, including research and development, manufacturing of high-value components, cell fabrication, module fabrication and the final assembly of complete battery packs ready for vehicle integration. As part of its continuing U.S. manufacturing ramp up, A123 also plans to open a coating plant in Romulus, Mich., expected to come on line during the first half of 2011. In addition to the DOE grant, the company received $125 million in state incentives from Michigan as part of its 21st Century Jobs Fund to help finance these manufacturing facilities.

http://ir.a123systems.com

Michigan's sagging manufacturing base is getting a boost from makers of lithium-ion batteries, with a substantial nudge from government incentives. The auto industry will be a big beneficiary from the deals.

On April 14, four companies said they will invest nearly $1.7 billion in Michigan manufacturing plants, with the assistance of nearly $550 million in tax breaks, according to

CleanTech

Brief.

The companies include:

* A123Systems Inc. is investing $600 million in initial coating, cell manufacturing and pack assembly. Its factory will be in Livonia. The Michigan Economic Growth Authority (MEGA) is kicking in $125.2 million in tax credits.
* The Dow Chemical Co.,

Kokam

America Inc. and Townsend Ventures

LLC

. are spending $665 million toward a battery and cell manufacturing plant to produce lithium polymer batteries. The batteries are intended for electric and hybrid vehicles. MEGA will devote $144.6 million in tax credits.
* Johnson Controls-

Saft

Advanced Power Solutions

LLC

. is investing $220 million for a facility to make lithium-ion cells for cars, to which MEGA is adding $148.5 million in tax credits.
* LG Chem, a Korean company, in partnership with its Troy, Mich.-based subsidiary Compact Power Inc., and General Motors Corp., are putting forth $200 million to produce lithium-ion battery cells. If Michigan introduces and passes legislation to provide more tax credits, the state will kick in $125.2 million in tax credits for the project.

In all, the battery plants should add 6,600 jobs.

http://www.environmentalleader.com
And results
By 2020, more than half of new vehicle sales are expected to be hybrid-electric, plug-in hybrid and all-electric models. And in the global race to develop and produce advanced lithium-ion batteries for these vehicles, the United States is well-positioned to be a worldwide leader, according to a new study from Duke University.


It hasn't always been this way. When hybrids first appeared, Japan beat the United States by about 10 years with its Toyota

Prius

, the report by researchers at Duke's Center for Globalization, Governance & Competitiveness notes. But while the

Prius

runs on a nickel metal hydride battery, the next generation of hybrid and electric cars will overwhelmingly use lithium-ion batteries, which have yet to be fully developed, commercialized and mass-produced for use in vehicles.

Marcy Lowe, lead author of the report, explains that nearly all lithium-ion batteries for cell phones and laptops today are currently made in Asia, even though a University of Texas professor helped develop the technology in the 1980s. "However, advancing the battery technology so it can power vehicles opens a whole new window of opportunity," she says. "And this time around, the US has learned to be quicker and more strategic."

The report indicates that thanks largely to stimulus funds, the US supply chain has 119 sites spread out across 27 states that could play relevant roles in the production of advanced car batteries. "According to announced capacity expansions, the United States will have a 40 percent share of global capacity to produce lithium-ion batteries for vehicles by 2015," the report says. "Funds from the American Reinvestment and Recovery Act of 2009 have

jumpstarted

the US industry from only two battery pack plants

pre

-

ARRA

, to 30 planned sites, all playing key roles across the value chain - including materials, components, and production of cells and battery packs.


Also, two of the four major cell components that go into a lithium-ion battery have major US manufacturers - Ohio-based

Novolyte

, with 30 years of experience in electrolytes (also used in other battery types), and North Carolina-based

Celgard

, with 20-30 percent of the global market in separators. Two additional North Carolina firms,

FMC

Lithium and

Chemetall

Foote

, together supply nearly 50 percent of the world's demand for lithium.

http://www.asianinfrastructure.com/news/us-will-overtake-japan-in-lithium-ion-battery-production/
More on the importance of batteries.
---
Like what you read? Chip in, keep us going.
---