Crossposted at
DailyKos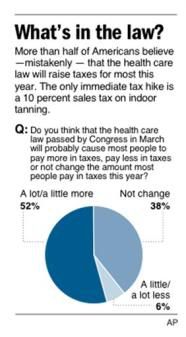 We have been had by the right wing media and a forceful misinformation campaign by Insurance companies, Teabagger Republican't and the minority leadership of both House and Senate that keep on saying no, no, no to every progressive measures on this President's agenda. Six months after the signing of the Patient Protection and Affordable Care Act of 2010, a lot of people find themselves still confused about what is actually in the law. According to the
AP poll conducted by Stanford University
, 1) 52% of Americans mistakenly believe the HCR overhaul will raise taxes for most people this year. 2) 65% believe the new law will increase the federal government's debt and another 16% believe it will not have any effect on the federal government's debt for a whopping 81% disconnect. 3) 25% of the participant still think that the bill contains 'death Panels' where decisions on patient care is made by bureaucrats.
Why is it that so many are not seeing the immediate and the future effects of this HCR bill? The honest answer is that average Americans just don't understand it and if they do, they are still confused to articulately talk about it. The bill has so many pieces that has different time table of when it will become effective, it makes the span of ones attention too short to navigate through it all. Nonetheless, the President hardly misses the opportunity to remind his audiences about what his HCR Bill will do. How about us? How many of us do know what the Health Care Reform Plan will do for average Americans? Today,
seven major provisions of the Health Care Bill
will kick in introducing significant consumer protections. However I am again afraid that these important provisions will go in the wayside without its deserving praises that should be used as sales pitch for every democrats on the campaign trail. I am also certain that these provisions are more likely to be applauded by many folks but only if they know what they are. As of September 23, 2010, all new health insurance plans must provide the following:
1) Coverage can't be denied to children with pre-existing conditions. Health insurance companies can no longer refuse to cover children age 19 and younger with serious medical conditions. 2) Extending coverage for young adults. Young adults up to age 26 can stay on their parents' health plans as long as they have no other coverage through an employer. This applies equally to married adult children, but not to their spouses and dependents. 3) Free preventive care. It seems crazy that health plans would charge for prevention (which saves money down the road) but many do. New health policies must offer preventive care for free. This means insurance companies cannot charge co-pays, deductibles or coinsurance for services such as mammograms, colonoscopies and other preventive screenings. 4) Rescinding coverage now illegal. The new law makes it illegal for insurance companies to search for an error or technical mistake on customers' applications and use this as a pretext to deny coverage when they fall sick. This should cut down on unnecessary denial of coverages and also administrative costs. 5) Eliminating lifetime limits on insurance coverage. Insurance companies can no longer impose lifetime dollar limits on essential benefits, like hospital stays. 6) Restricting annual limits on insurance coverage. The new law restricts the practice of setting annual dollar limits on coverage for individual and group health plans. By 2014, annual dollar limits on essential benefits like hospital stays will be completely banned. 7) More options to appeal coverage decisions. Consumers can now appeal coverage decisions or claims through their insurer or through an independent external reviewer.
These are all excellent provisions that must be amplified 1000 times so that we can change the minds and hearts of people who are misguided by misinformation. So, if you are looking for information as a talking point to spread the many great programs that will effect people's health care, use these
seven new health reform provisions
as a starts today when you go out phone banking, GOTV, talking to your families, friends and neighbors. Further, below is also additional talking point that you can use as a cheat sheet to educate yourself and teach others about the effect of Health Care Reform Bill:
From crooks and liars Ten immediate benefits of HCR
1) Adult children may remain as dependents on their parents' policy until their 26th birthday 2) Children under age 19 may not be excluded for pre-existing conditions 3) No more lifetime or annual caps on coverage 4) Free preventative care for all 5) Adults with pre-existing conditions may buy into a national high-risk pool until the exchanges come online. While these will not be cheap, they're still better than total exclusion and get some benefit from a wider pool of insureds. 6) Small businesses will be entitled to a tax credit for 2009 and 2010, which could be as much as 50% of what they pay for employees' health insurance. 7) The "donut hole" closes for Medicare patients, making prescription medications more affordable for seniors. 8) Requirement that all insurers must post their balance sheets on the Internet and fully disclose administrative costs, executive compensation packages, and benefit payments. 9) Authorizes early funding of community health centers in all 50 states (Bernie Sanders' amendment). Community health centers provide primary, dental and vision services to people in the community, based on a sliding scale for payment according to ability to pay. 10) AND no more rescissions. Effective immediately, you can't lose your insurance because you get sick.
From
Politico
additional immediate benefits of the :
1) Access to Affordable Coverage for the Uninsured with Pre-existing Conditions The Patient Protection and Affordable Care Act will provide $5 billion in immediate federal support for a new program to provide affordable coverage to uninsured Americans with pre-existing conditions. This provision is effective 90 days after enactment, and coverage under this program will continue until new Exchanges are operational in 2014. 2) Access to Quality Care for Vulnerable Populations The Patient Protection and Affordable Care Act makes an immediate and substantial investment in Community Health Centers to provide the funding needed to expand access to health care in communities where it is needed most. This $10 billion investment begins in 2010 and extends for five years. 3) Re-insurance for Retiree Health Benefit Plans The Patient Protection and Affordable Care Act will create immediate access to re-insurance for employer health plans providing coverage for early retirees, effective 90 days after enactment. This re-insurance will help protect coverage while reducing premiums for employers and retirees. 4) Closing the Coverage Gap in the Medicare (Part D) Drug Benefit The Patient Protection and Affordable Care Act will reduce the size of the "donut hole," raising the ceiling on the initial coverage period by $500 in 2010. The Patient Protection and Affordable Care Act will also guarantee 50 percent price discounts on brand-name drugs and biologics purchased by low and middle-income beneficiaries in the coverage gap, beginning July 1, 2010. 5) Small Business Tax Credits The Patient Protection and Affordable Care Act will offer tax credits to small businesses beginning in 2010 to make employee coverage more affordable. Tax credits of up to 35 percent of premiums will be immediately available to firms that choose to offer coverage; later, when Exchanges are operational, tax credits will be up to 50 percent of premiums. 6) Patient Protections The Patient Protection and Affordable Care Act protects patients' choice of doctors by allowing plan members to pick any participating primary care provider, prohibiting insurers from requiring prior authorization before and woman sees an ob-gyn, and ensuring access to emergency care. This provision takes effect six months after enactment and applies to all new plans. 7) Prohibits Discrimination Based on Salary The Patient Protection and Affordable Care Act will prohibit group health plans from establishing any eligibility rules for health care coverage that have the effect of discriminating in favor of higher wage employees. This provision takes effect six months after enactment and applies to group health plans.
These provisions are not a wholesale takeover of the American health care system or something that will forever change health care in America for the worse or something that violates individual rights some crazy ass uninformed teabagger Republican'ts claims it to be. These provisions will save lives. These provisions will ensure that lives will not prematurely end. These provisions will significantly reduce the 45,000 people who die because they don't have health coverage. The provisions will help families avoid filing bankruptcy because they can't afford to pay their medical bills. These provisions are a step in the right direction - in a direction to public option and single payer. The Whitehouse acknowledges their fault in starting the PR war very late in the game but is engaged in talking about its accomplishments forcefully to set the record straight and prove the nay sayers wrong. Yes we can too because the facts are undeniable. Let's go out and tell the truth in the mid-term election and spread the word. We are the ones we have been waiting for so let's grab a mop and start mopping the teabagger Republican'ts lies and misinformation.
---
Like what you read? Chip in, keep us going.
---