I was touched by so many things at the Eulogy given by President Obama for the shooting victims yesterday in Tuscan, Arizona. My tears were rolling especially when he spoke about Christina. It was an amazing, kind and sincere speech and I just want to acknowledge it too that I want to see this country the way Christina Taylor Green believed it can be.
And in Christina we see all of our children. So curious, so trusting, so energetic and full of magic. So deserving of our love. And so deserving of our good example. If this tragedy prompts reflection and debate, as it should, let's make sure it's worthy of those we have lost. The loss of these wonderful people should make every one of us strive to be better in our private lives - to be better friends and neighbors, co-workers and parents.
I can't take away from what the President had said in full but I will highlight some of the things he said below. The full video of the President's speech at a memorial event for the victims of the tragic shooting in Arizona titled - "Together We Thrive: Tucson and America" - is below and
the transcript link here
: He said speaking of the indecent:
Our hearts are broken by their sudden passing. Our hearts are broken -– and yet, our hearts also have reason for fullness. Our hearts are full of hope and thanks for the 13 Americans who survived the shooting, including the congresswoman many of them went to see on Saturday.
He said speaking of the people that helped during this tragedy:
These men and women remind us that heroism is found not only on the fields of battle. They remind us that heroism does not require special training or physical strength. Heroism is here, in the hearts of so many of our fellow citizens, all around us, just waiting to be summoned -– as it was on Saturday morning. Their actions, their selflessness poses a challenge to each of us. It raises a question of what, beyond prayers and expressions of concern, is required of us going forward. How can we honor the fallen? How can we be true to their memory?
He spoke about the polarizing environment we live in and what we must do:
But at a time when our discourse has become so sharply polarized -– at a time when we are far too eager to lay the blame for all that ails the world at the feet of those who happen to think differently than we do -– it's important for us to pause for a moment and make sure that we're talking with each other in a way that heals, not in a way that wounds.
He said about what we must do about this tragedy:
But what we cannot do is use this tragedy as one more occasion to turn on each other. That we cannot do. That we cannot do. As we discuss these issues, let each of us do so with a good dose of humility. Rather than pointing fingers or assigning blame, let's use this occasion to expand our moral imaginations, to listen to each other more carefully, to sharpen our instincts for empathy and remind ourselves of all the ways that our hopes and dreams are bound together.
He said this loss must cause us to reflect:
That process of reflection, of making sure we align our values with our actions - that, I believe, is what a tragedy like this requires. For those who were harmed, those who were killed - they are part of our family, an American family 300 million strong. We may not have known them personally, but we surely see ourselves in them. In George and Dot, in Dorwan and Mavy, we sense the abiding love we have for our own husbands, our own wives, our own life partners. Phyllis - she's our mom or grandma; Gabe our brother or son. In Judge Roll, we recognize not only a man who prized his family and doing his job well, but also a man who embodied America's fidelity to the law. In Gabby, we see a reflection of our public spiritedness, that desire to participate in that sometimes frustrating, sometimes contentious, but always necessary and never-ending process to form a more perfect union. And in Christina we see all of our children. So curious, so trusting, so energetic and full of magic. So deserving of our love.
He said we need to strive to do better:
The loss of these wonderful people should make every one of us strive to be better. To be better in our private lives, to be better friends and neighbors and coworkers and parents. And if, as has been discussed in recent days, their death helps usher in more civility in our public discourse, let us remember it is not because a simple lack of civility caused this tragedy -- it did not -- but rather because only a more civil and honest public discourse can help us face up to the challenges of our nation in a way that would make them proud.
He said, "we have many more issues that bind us together than separate us"!
I believe we can be better. Those who died here, those who saved lives here - they help me believe. We may not be able to stop all evil in the world, but I know that how we treat one another is entirely up to us. I believe that for all our imperfections, we are full of decency and goodness, and that the forces that divide us are not as strong as those that unite us.
He said we must live up to Christina's expectation:
Imagine for a moment, here was a young girl who was just becoming aware of our democracy; just beginning to understand the obligations of citizenship; just starting to glimpse the fact that some day she, too, might play a part in shaping her nation's future. She had been elected to her student council. She saw public service as something exciting and hopeful. She was off to meet her congresswoman, someone she was sure was good and important and might be a role model. She saw all this through the eyes of a child, undimmed by the cynicism or vitriol that we adults all too often just take for granted. I want to live up to her expectations. I want our democracy to be as good as Christina imagined it. I want America to be as good as she imagined it. All of us -– we should do everything we can to make sure this country lives up to our children's expectations. If there are rain puddles in Heaven, Christina is jumping in them today. And here on this Earth -- here on this Earth, we place our hands over our hearts, and we commit ourselves as Americans to forging a country that is forever worthy of her gentle, happy spirit.
In closing, he said:
May God bless and keep those we've lost in restful and eternal peace. May He love and watch over the survivors. And may He bless the United States of America.
====================================================================
Here are some pictures of the President on his way and at the memorial service for victims of last Saturday's shooting rampage that killed six people and left 14 injured sourced from public domain.
President Barack Obama and First Lady Michelle Obama walk back to the Residence after joining White House staff on the South Lawn of the White House to observe a moment of silence for the victims of the Arizona shootings Jan. 10, 2011. (Official White House Photo by Chuck Kennedy)
====================================================================
U.S. President Barack Obama and first lady Michelle Obama step off Air Force One at Davis-Monthan Air Force Base in Tucson, Arizona, January 12, 2011.(Reuters Photo)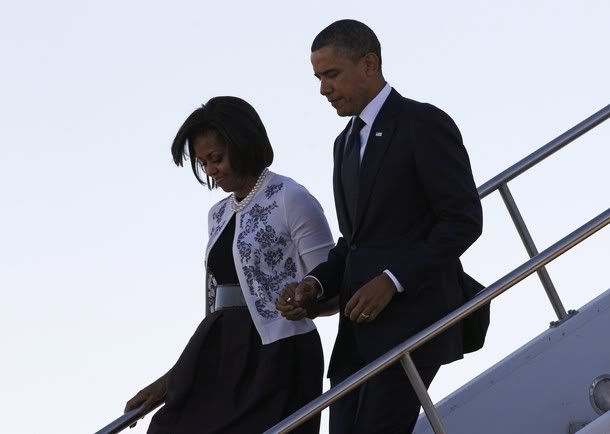 ====================================================================
U.S. President Barack Obama and first lady Michelle Obama step off Air Force One at Davis-Monthan Air Force Base in Tucson, Arizona, January 12, 2011. (Reuters Photo)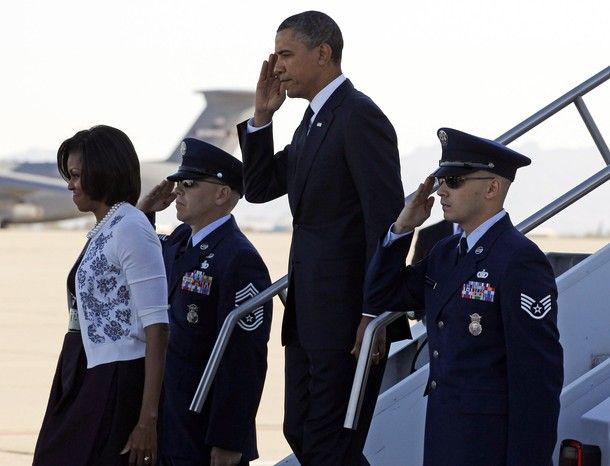 ====================================================================
U.S. President Barack Obama greets Arizona Governor Jan Brewer after stepping off Air Force Base in Tucson, Arizona, January 12, 2011.(Reuters Pictures)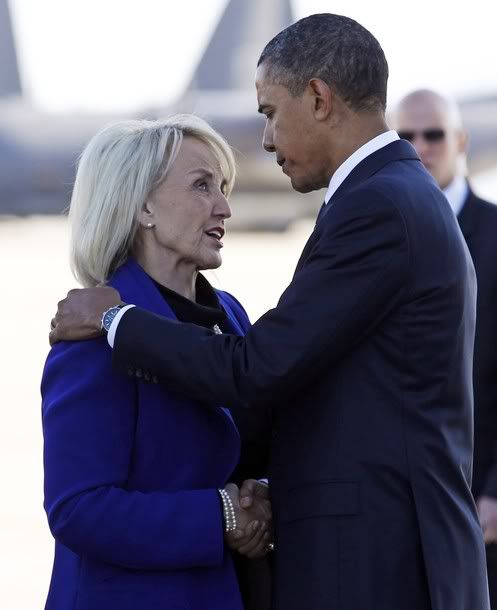 ====================================================================
President Barack Obama shakes hands with Sheriff Clarence Dupnik as he and first lady Michelle Obama arrive in Tucson, Ariz. , to attend a memorial service for victims of last Saturday's shooting rampage that killed six people and left 14 injured, including Rep. Gabrielle Giffords, at Davis-Monthan Air Force Base, Wednesday, Jan. 12, 2011. (AP Photo)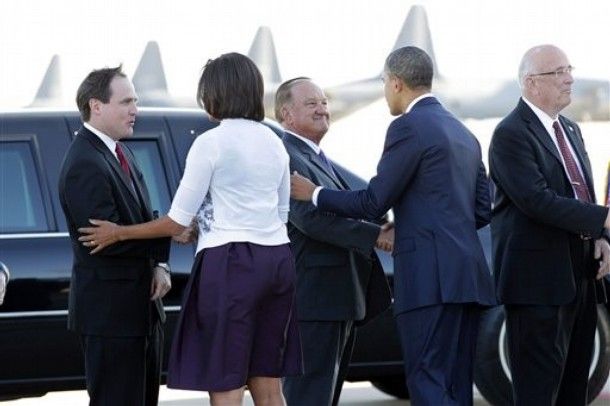 ====================================================================
People line up to get into a memorial service for the victims of Saturday's shootings at McKale Memorial Center on the University of Arizona campus Wednesday, Jan. 12, 2011, in Tucson, Ariz. (AP Photo)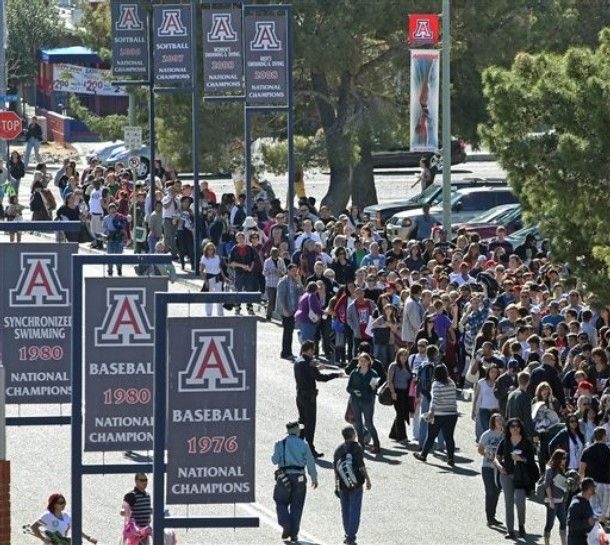 ====================================================================
T-shirts are placed on chairs for a memorial service for victims of the January 8 shooting at the University of Arizona in Tucson, Arizona January 12, 2011. (Reuters Photo)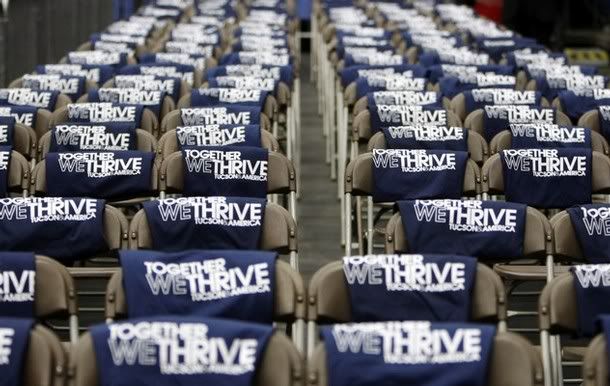 ====================================================================
President Barack Obama and first lady Michelle Obama attend a memorial service in Tucson, Ariz. , for the victims of a shooting rampage that that killed six people and left 14 injured, including Rep. Gabrielle Giffords, on the University of Arizona campus, Wednesday, Jan. 12, 2011. (AP Photo)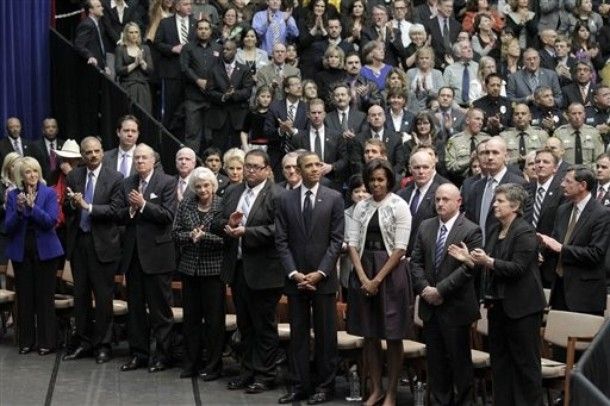 ====================================================================
President Barack Obama embraces astronaut Mark Kelly, husband of Rep. Gabrielle Giffords, D-Ariz. , at a memorial service for the victims of Saturday's shootings at McKale Center on the University of Arizona campus Wednesday, Jan. 12, 2011, in Tucson, Ariz. (AP Photo)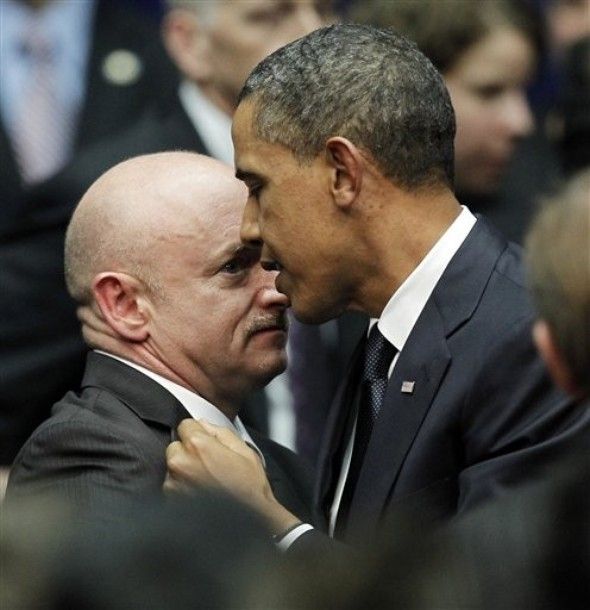 ====================================================================
U.S. President Barack Obama hugs U.S. Congresswoman Gabrielle Gifford's husband, NASA shuttle commander astronaut Mark Kelly as first lady Michelle Obama looks on at the "Together We Thrive: Tucson and America" event held to support and remember the victims of the mass shooting, at the University of Arizona in Tucson, Arizona, January 12, 2011. (Reuters Pictures)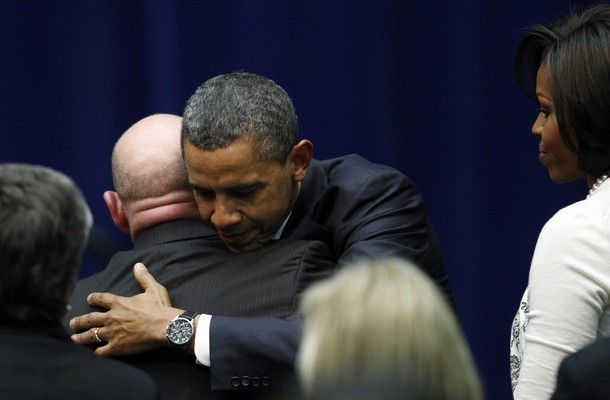 ====================================================================
An overflow crowd in Arizona Stadium listens to remarks by President Obama as he speaks at a memorial service at the McKale Center for the victims of Saturday's shootings, Wednesday, Jan. 12, 2011, on the University of Arizona campus in Tucson. (AP Photo)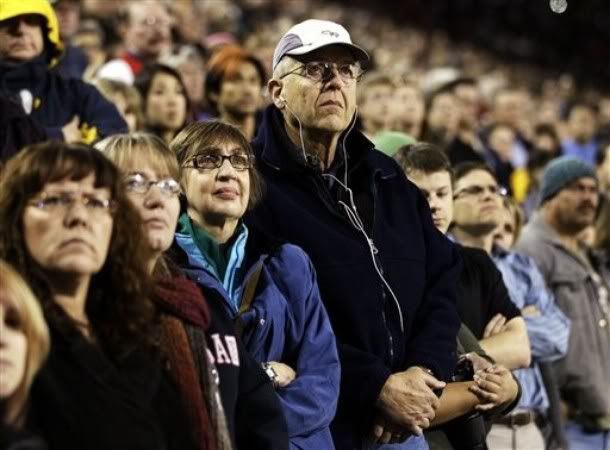 ====================================================================
Karen Morgan, left, and her daughter Arielle Andelin, both of Tucson, listen with an overflow crowd in Arizona Stadium, to remarks by President Obama as he attends a memorial service for the victims of Saturday's shootings at McKale Center on the University of Arizona campus Wednesday, Jan. 12, 2011, in Tucson, Ariz. (AP Photo)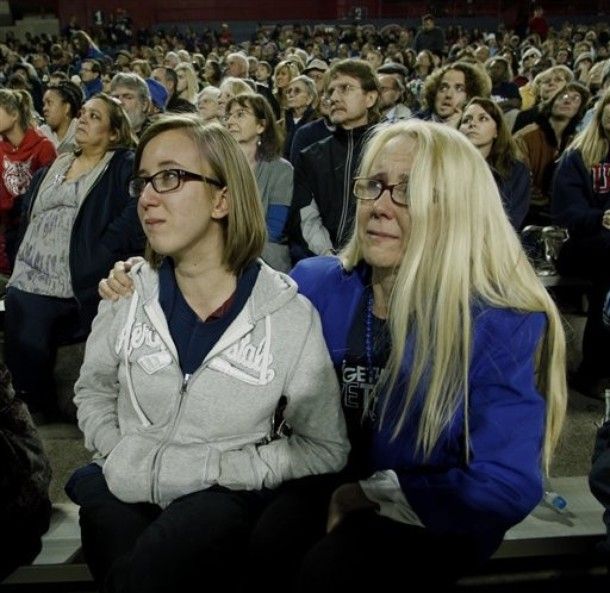 ====================================================================
President Barack Obama speaks at a memorial service for the victims of Saturday's shootings at McKale Center on the University of Arizona campus Wednesday, Jan. 12, 2011, in Tucson, Ariz.(AP Photo)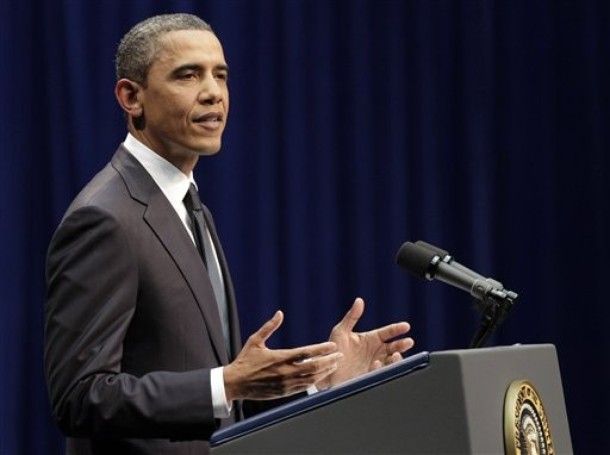 ====================================================================
President Barack Obama joins the audience in applauding Daniel Hernandez, an intern for Rep. Gabrielle Giffords who helped her after she was shot, during a memorial service in Tucson, Ariz. , Wednesday, Jan. 12, 2011. (Reuters Pictures)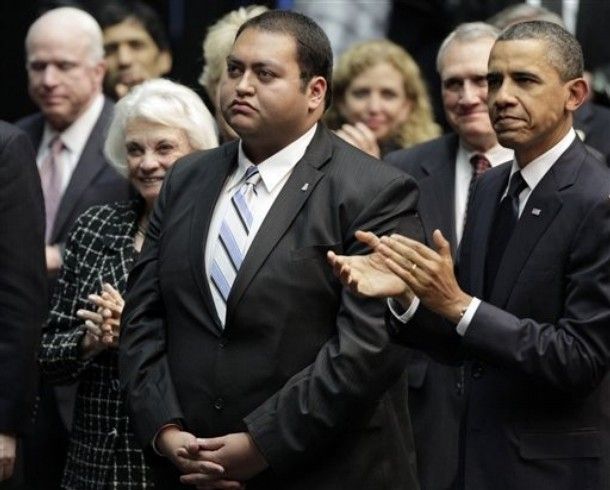 ====================================================================
U.S. Representative Gabrielle Giffords (D-AZ) is pictured with her husband NASA Astronaut Mark Kelly in this November 2007 photograph from their wedding made available by the office of Rep. Giffords for Reuters on January 12, 2011.(Reuters Pictures)
====================================================================