Happy Holidays to all First!
He is a veteran of the US Senate who is a very well respected lawmaker before he became the right hand man for President Obama as a Vice-President. His name is Joe Biden and he is a "
fucking big deal
" to the success of this Administration and the President.
This man has indeed been the President's Right hand man, someone I have the at most respect for his loyalty to his convictions, his grace and purely kind heart that can be seen all the way from Delaware.
I toast today to give him his props as he is the silent, behind the close door, go to guy that get things done. We, as Americans, owe him a huge debt of gratitude for his life long service fighting the good fight for all Americans and I would like to say thank you to you Mr. Vice-President for a job well done to date!
**********************************************************************************
Pictures do tell stories and it is my hope you let it talk to you. However, if pictures are not good enough, I think everyone should read this:



START is just the latest Joe Biden success
By Ruth Marcus
Friday, December 24, 2010

The vice president calls, more than an hour after the appointed time but with an impeccable excuse: He was presiding over the Senate's vote to ratify the New START treaty.

START was the finish of a great few weeks for Joe Biden. A great few weeks for President Obama, too, but in a sense even better for Biden because so many of the successful initiatives were on the vice presidential to-do list.

Deal with the expiring tax cuts? Check, after hours of negotiations around the vice president's dining room table. Pass START? Check, after dozens of vice presidential interventions with wavering senators. New government in Iraq? Check, in the wake of a presidential assignment, "Joe, you do Iraq."

It is easy - literally, folks - to mock Biden, but it is even easier to underestimate him. He is reliable fodder for late-night comedians. He is like an overeager puppy with a tendency toward rhetorical accidents that require cleaning up. The latest was his assertion, about Afghanistan, that "we're going to be totally out of there, come hell or high water, by 2014." Totally, that is, in terms of combat troops. When Biden talks, folks, you can't necessarily take him literally.

[Read more you won't be disappointed]
**********************************************************************************

President Barack Obama fist bumps Vice President Joe Biden, with Senior Advisor Valerie Jarrett looking on, before a meeting in the Oval Office.(Official White House Photo by Pete Souza)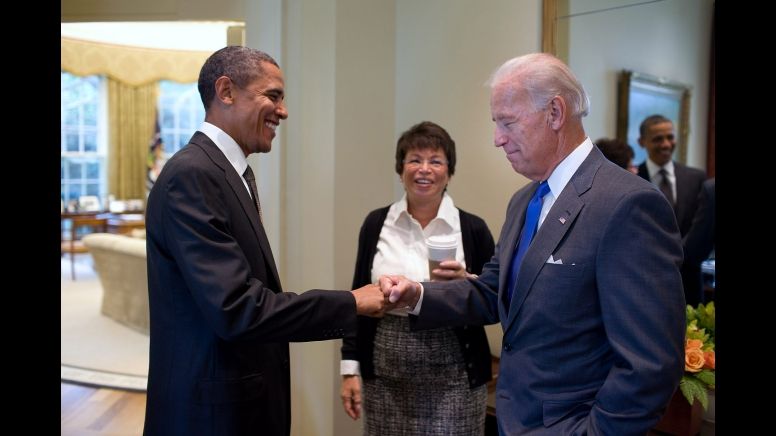 **********************************************************************************
President Barack Obama wishes Vice President Joe Biden an early happy birthday after he was presented with a cake during their lunch in the Private Dining Room. (Official White House Photo by Pete Souza)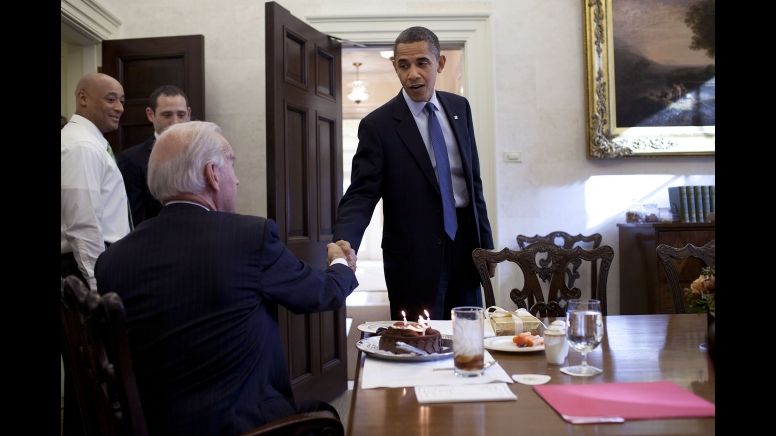 **********************************************************************************
President Barack Obama holds a meeting on the economy with his advisors in the Roosevelt Room of the White House. (Official White House Photo by Pete Souza)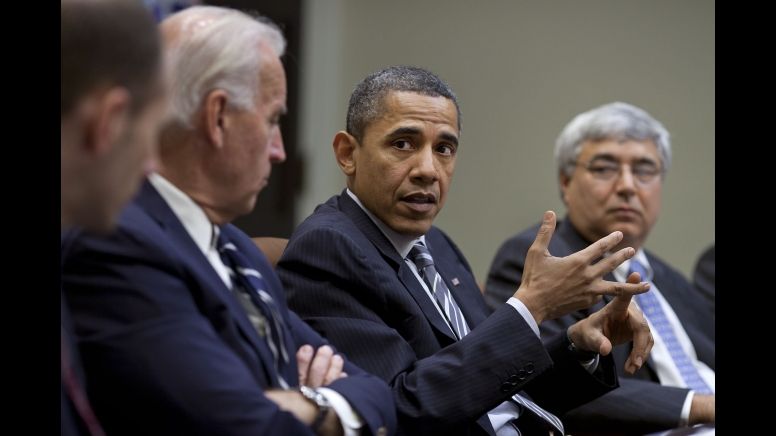 **********************************************************************************
Vice President Joe Biden chats with Lt. Gen. Robert Cone, deputy commanding general for operations of U.S. Forces-Iraq, at Camp Victory in Baghdad. (Official White House Photo by David Lienemann)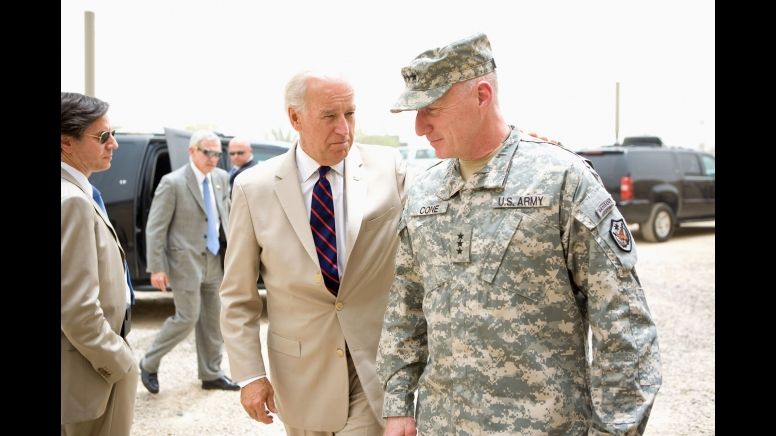 **********************************************************************************
Vice President Joe Biden greets troops at Camp Liberty in Baghdad, Iraq. (Official White House Photo by David Lienemann)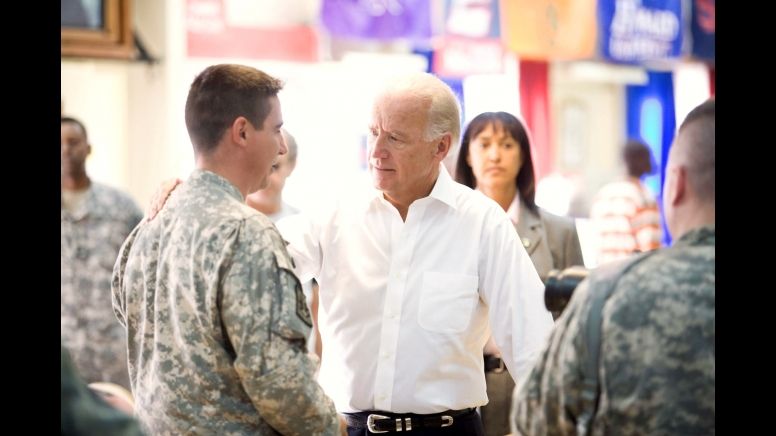 **********************************************************************************
Vice President Joe Biden visits with troops at Camp Victory in Baghdad, Iraq. (Official White House Photo by David Lienemann)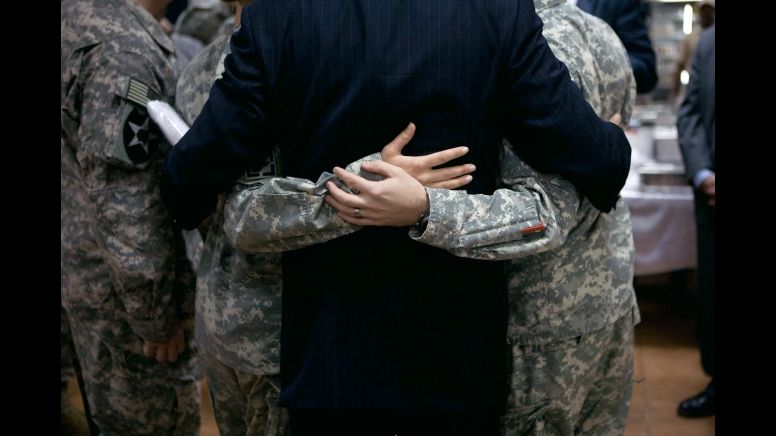 **********************************************************************************
Vice President Joe Biden, Dr. Jill Biden, and Gen. Raymondl Odierno, Commanding General, U.S. Forces-Iraq, participate in a naturalization ceremony for U.S. service members at Al-Faw Palace at Camp Victory in Baghdad, Iraq. (Official White House Photo by David Lienemann)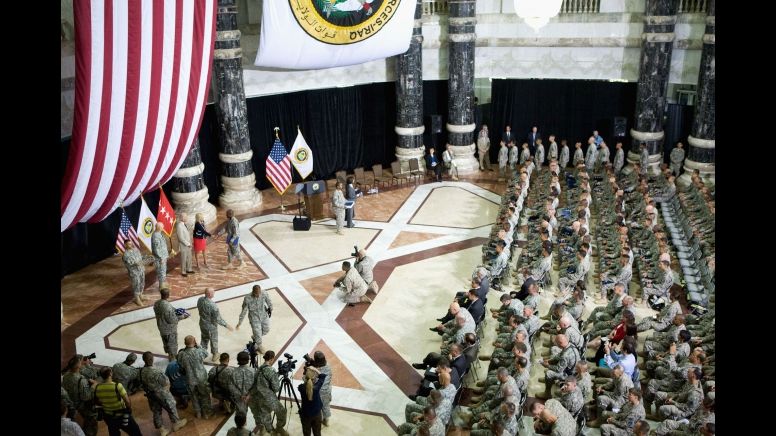 **********************************************************************************
President Barack Obama and Vice President Joe Biden meet with the national security team on Iraq in the Situation Room of the White House. (Official White House Photo by Pete Souza)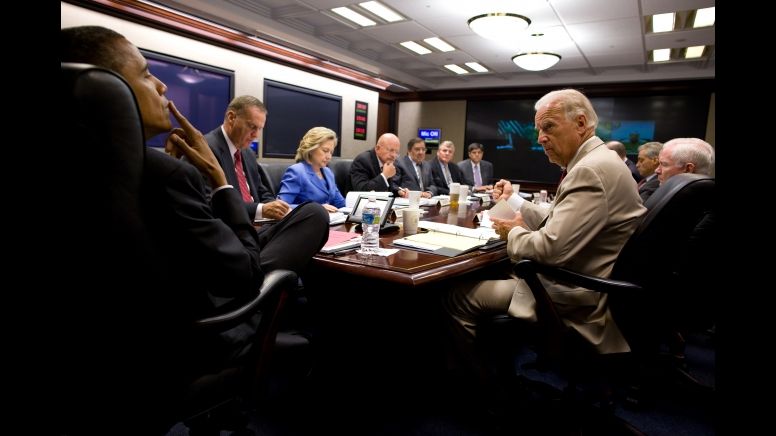 **********************************************************************************
Vice President Joe Biden shakes hands after addressing the 111th Veterans of Foreign Wars Convention in Indianapolis, Indiana. (Official White House Photo by David Lienemann)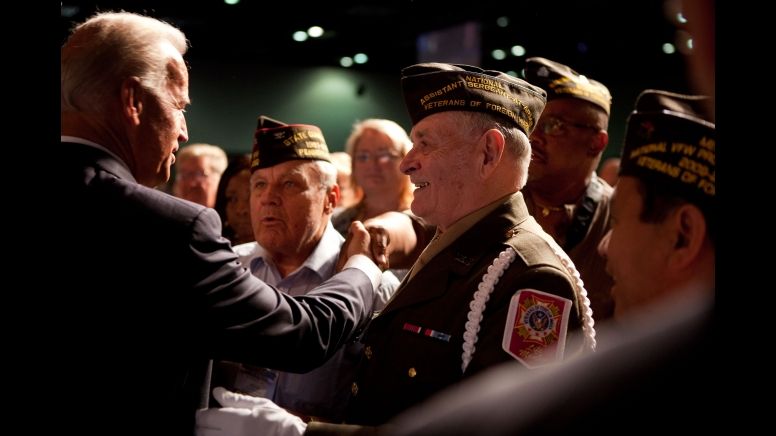 **********************************************************************************
President Barack Obama, Vice President Joe Biden and First Lady Michelle Obama talk in the Blue Room of the White House before hosting a reception in honor of Jewish American Heritage Month. (Official White House Photo by Pete Souza)
**********************************************************************************
President Barack Obama and Vice President Joe Biden walk from the Oval Office to the motorcade for the trip to the Ronald Reagan Building to sign the Dodd-Frank Wall Street Reform and Consumer Protection Act.(Official White House Photo by Pete Souza)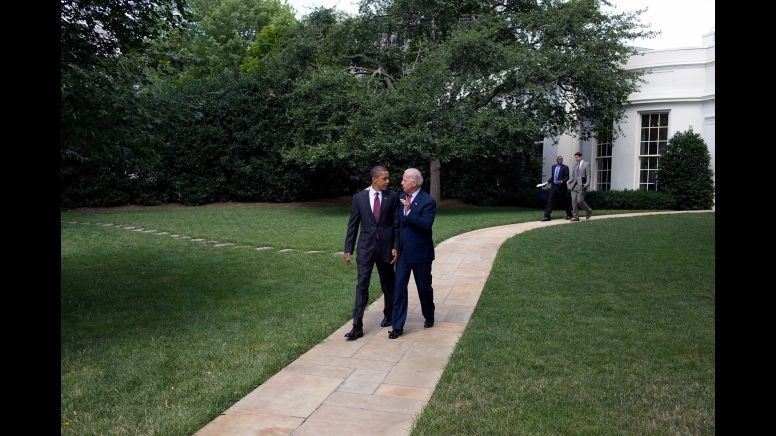 **********************************************************************************
President Barack Obama and Vice President Joe Biden wait in the Blue Room of the White House before delivering remarks and signing the health insurance reform bill. (Official White House Photo by Pete Souza)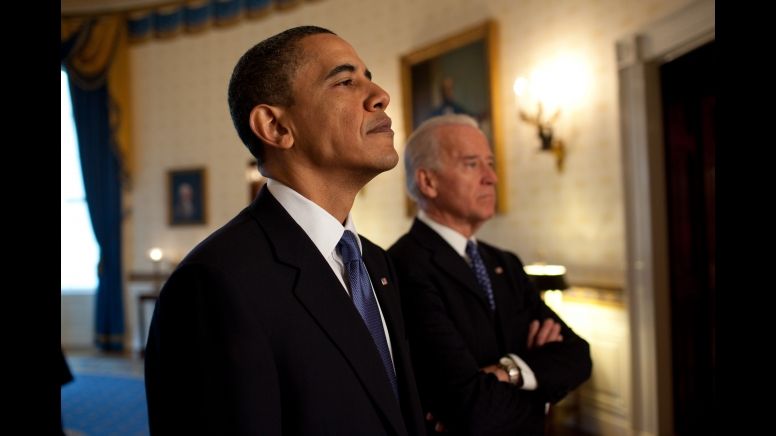 **********************************************************************************
President Barack Obama shakes hands with Vice President Joe Biden and Speaker of the House Nancy Pelosi at the conclusion of his State of the Union address. (Official White House Photo by Pete Souza)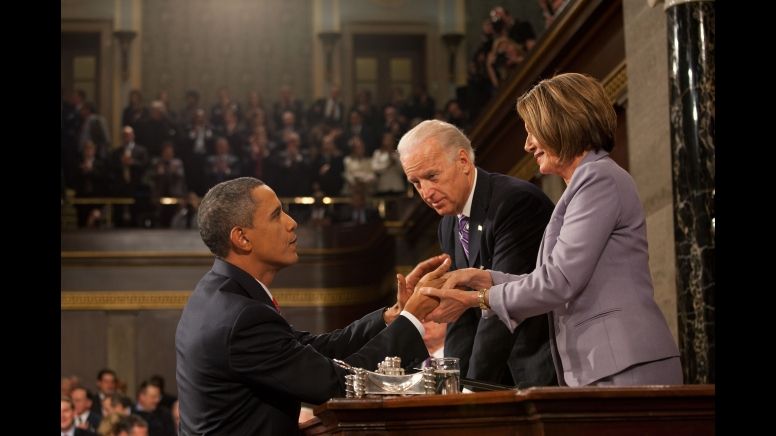 **********************************************************************************
President Barack Obama talks with Vice President Joe Biden in the Oval Office. (Official White House Photo by Pete Souza)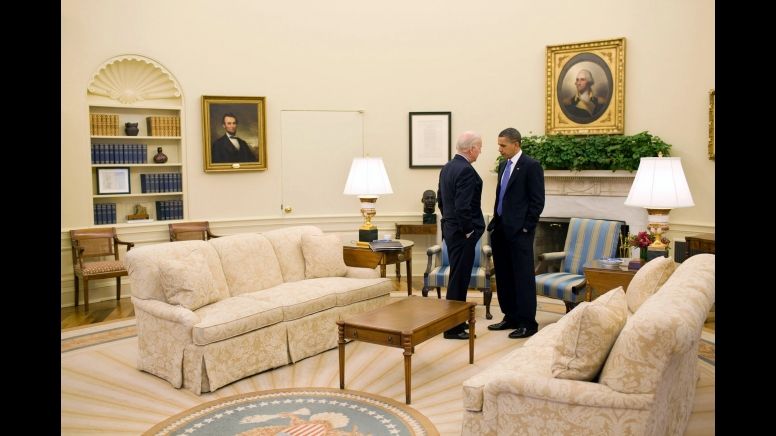 **********************************************************************************
Vice President Joe Biden and President Michelle Bachelet of Chile listen while British Prime Minister Gordon Brown speaks, during a roundtable meeting of leaders at the Progressive Governance conference in Vina del Mar, Chile.(Official White House Photo by David Lienemann)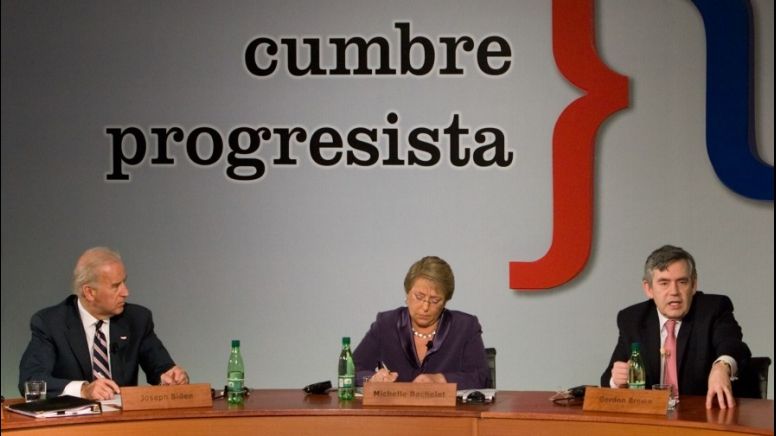 **********************************************************************************
Vice President Joe Biden walks past members of the Chilean military guard with the chief protocol officer upon his arrival at La Moneda for dinner with President Michelle Bachelet, in Santiago, Chile. (Official White House Photo by David Lienemann)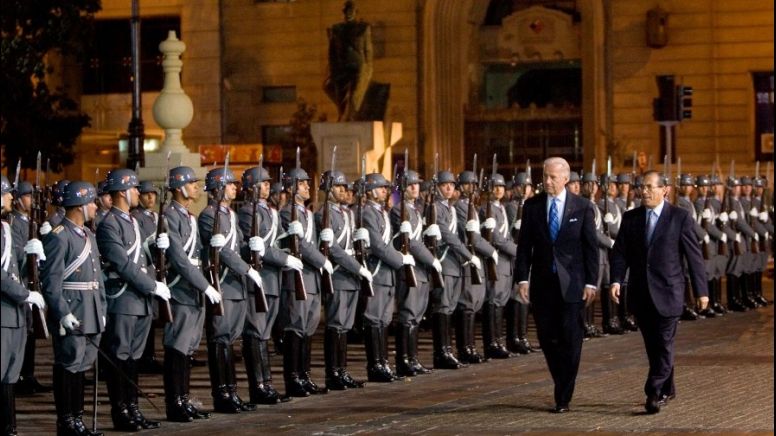 **********************************************************************************
Vice President Joe Biden swears in Secretary of Labor Hilda Solis at the Department of Labor in Washington DC. (Official White House Photo by David Lienemann)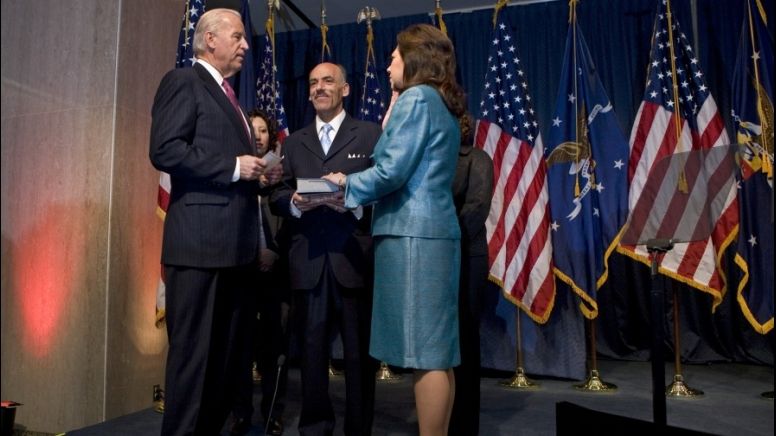 **********************************************************************************
Vice President Joe Biden talks with University of Pennsylvania's Vice President of Facilities Anne Papageorge, University Vice President for Government and Community Affairs Jeffrey Cooper, U.S. Rep. Chaka Fattah (D-PA), Transportation Secretary Ray LaHood, Gov. Ed Rendell (D-PA), Agriculture Secretary Tom Vilsack, Philadelphia Mayor Michael Nutter (D), and U.S. Sen. Arlen Specter (R-PA), in Philadelphia as they tour the University's Division of Real Estate Services. (Official White House Photo by Sharon Farmer)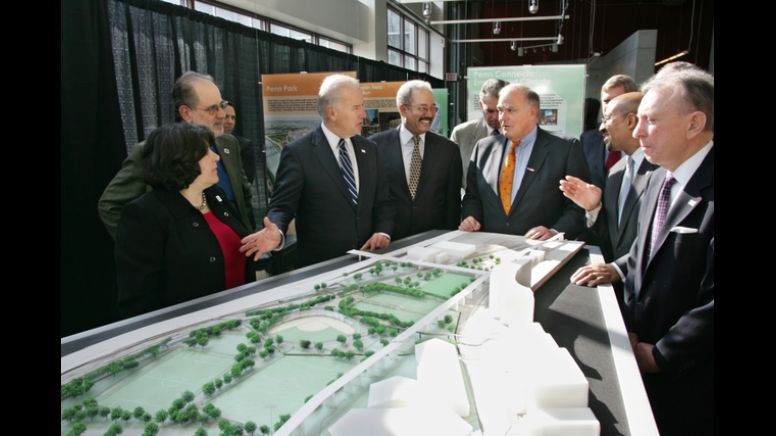 **********************************************************************************