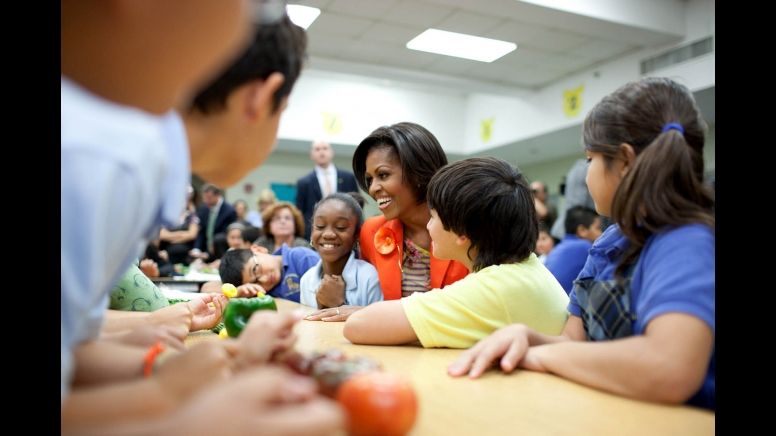 You have to look into the magnifying lenses to see what is being accomplished yet again by this administration and especially The First Lady Michelle Obama who championed this initiative to helping kids grow healthy. Today, the President and First Lady Michelle Obama jointly delivered remarks during the signing of
the Healthy, Hunger-Free Kids Act of 2010
at Harriet Tubman Elementary School, Washington, D.C. This new law will provide $4.5 billion in new funding and will give USDA the authority to set nutritional standards for all foods regularly sold in schools creating a national standard. It also will increase the number of eligible children enrolled in federally subsidized school meal programs by approximately 115,000 students.
Read Transcript of the remark
and the
fact-sheet
that displays how the bill is going to achieve the goal.
MRS. OBAMA: Thank you. Thank you, everybody. Thank you all, thanks so much, and good morning. AUDIENCE: Good morning. MRS. OBAMA: And thank you, Mr. President -- (laughter) -- for that very kind introduction. And all kidding aside, my husband worked very hard to make sure that this bill was a priority in this session. And I am grateful to you. THE PRESIDENT: Because I would have been sleeping on the couch. (Laughter.) MRS. OBAMA: But I am thrilled to be here -- we won't go into that. (Laughter.) Let's just say it got done, so we don't have to go down that road. (Laughter.) But I am thrilled to be here with all of you today as my husband signs the Healthy, Hunger-Free Kids Act into law. Now, usually, we hold these bill signings in the White House. But we felt it was important to do this one right here at Tubman Elementary because we wanted to share this moment with our partners -- with the students, the parents, the teachers, the community leaders, like all of you here, who have been so instrumental. More...
********************************************************************************** Some pics from the signing ceremony: **********************************************************************************
US President Barack Obama signs into law the Healthy, Hunger-Free Kids Act of 2010 as First Lady Michelle Obama (R) looks on at Harriet Tubman Elementary School in Washington on December 13, 2010.(Getty Images)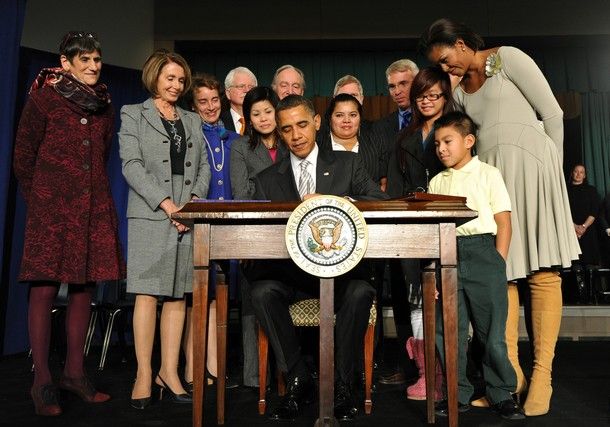 **********************************************************************************
US President Barack Obama shakes hands with third grader Luis Avelar-Turcios after he signed into law the Healthy, Hunger-Free Kids Act of 2010 at Harriet Tubman Elementary School in Washington on December 13, 2010. (AP Photo)
**********************************************************************************
US President Barack Obama kisses First Lady Michelle Obama before signing into law the Healthy, Hunger-Free Kids Act of 2010 at Harriet Tubman Elementary School in Washington on December 13, 2010.AP Photo (AP Photo)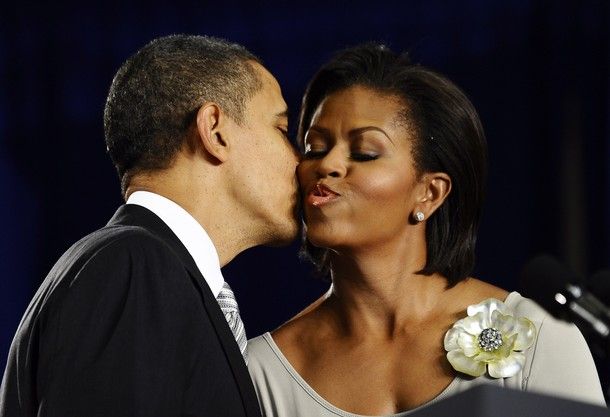 **********************************************************************************
U.S. President Barack Obama (L) listens as first lady Michelle Obama delivers remarks before the president signs the Healthy, Hunger-Free Kids Act of 2010 at Harriet Tubman Elementary School December 13, 2010 in Washington, DC.(AP Photo)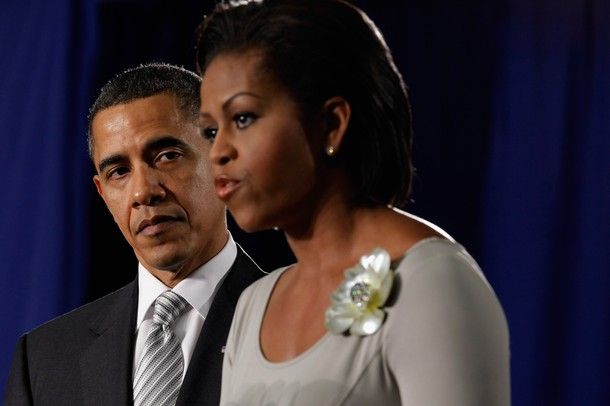 **********************************************************************************
House Speaker Nancy Pelosi of Calif. , left, and others, look on as President Barack Obama signs the Healthy, Hunger-Free Act of 2010, during a ceremony at Harriet Tubman Elementary School in the Columbia Heights neighborhood of Washington, Monday, Dec. 13, 2010.(AP Photo)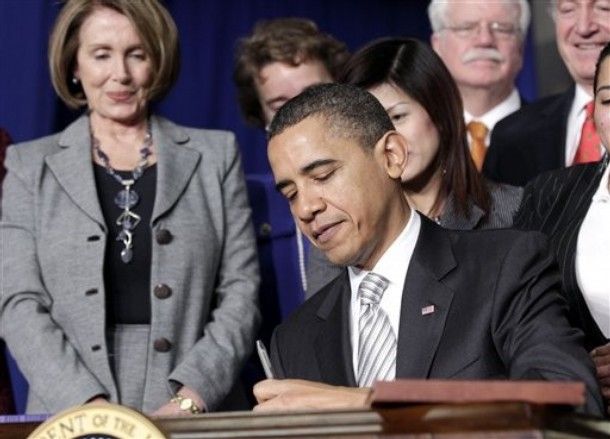 **********************************************************************************
President Barack Obama and first lady Michelle Obama are introduced before the president signed the Healthy, Hunger-Free Act of 2010, during a ceremony at Harriet Tubman Elementary School in the Columbia Heights neighborhood of Washington, Monday, Dec. 13, 2010.(AP Photo)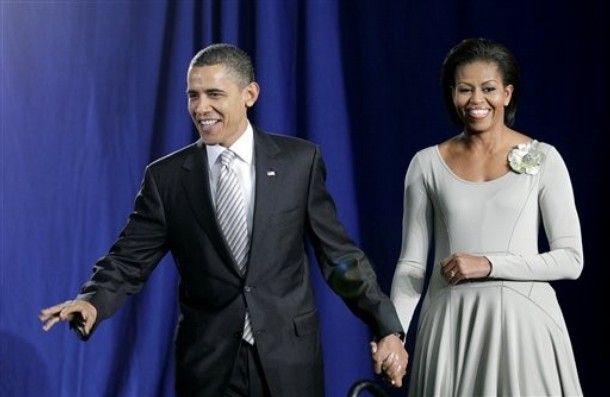 **********************************************************************************
US President Barack Obama speaks as First Lady Michelle Obama looks on before signing into law the Healthy, Hunger-Free Kids Act of 2010 at Harriet Tubman Elementary School in Washington on December 13, 2010.(Getty Images)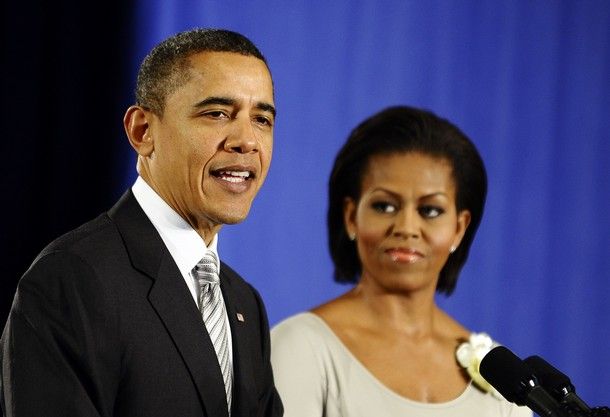 **********************************************************************************
U.S. President Barack Obama winks to the audience before signing the Healthy, Hunger-Free Kids Act of 2010 at Harriet Tubman Elementary School December 13, 2010 in Washington, DC. (Getty Images)