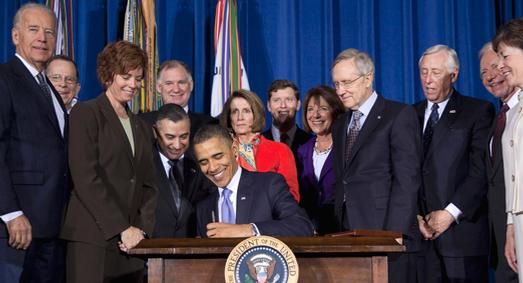 No longer will our country be denied the service of thousands of patriotic Americans who were forced to leave the military, regardless of their skills, no matter their bravery or their zeal, no matter their years of exemplary performance, because they happen to be gay, No longer will tens of thousands of Americans in uniform be asked to live a lie.
~Barack Obama
A compromise measure that deprived Homosexuals from openly serving in the U.S. Military is a thing of the past as of Today. It is HISTORY and
A-M-E-N
!
I have heard so many things that have been said about my President including
he is a Homophobe
, a
bigot
, how his Administration is run by "
Jim Crow
", how he has been disengaged, how he can't be trusted, shame on him that he is looking the other way, and how there will be an empty lines on a ballot in 2012 for the Presidential vote, et al but never did the President took his eyes from the Prize. He had said it from the beginning and he followed through with it to the end while so many doubted him. I think Rachel said it best
here
when she expressed her gratitude to the President after the cloture vote last Saturday:
He continually insisted that this is possible...that it will get done. It in fact was not possible for the President to do this through Executive Action. This is something that had to happen legislatively if it is going to happen in a definitive way. The President didn't waver. He did work on the Senate to make this happen. He insisted that it was possible against a lot of people including me saying it is not possible. This is a difficult promise kept. It is just not a promise kept. It was one that was hard to keep that cost a lot of political capital and a lot of work and this is the President's victory today and his base will reward him for it.
I will say A-M-E-N to that and Thank You to President Obama, all of those in Congress who voted to repeal DADT, activist who have fought for years for equality and the 78% of Americans who recognized that inequality is just not fair nor acceptable.
Longer version of President Obama's remark Today during the signing of the Repeal of Don't Ask, Don't Tell Law is here with Transcript provided here.
Memory lane with President Obama on issues that affect LGBs:
President Barack Obama delivers remarks at a White House event marking his signature of the Matthew Shepard & James Byrd, Jr. Hate Crimes prevention Act
This is the culmination of a struggle that has lasted more than a decade. Time and again, we faced opposition. Time and again, the measure was defeated or delayed. Time and again we've been reminded of the difficulty of building a nation in which we're all free to live and love as we see fit. But the cause endured and the struggle continued, waged by the family of Matthew Shepard, by the family of James Byrd, by folks who held vigils and led marches, by those who rallied and organized and refused to give up, by the late Senator Ted Kennedy who fought so hard for this legislation -- (applause) -- and all who toiled for years to reach this day.
More
+++++++++++++++++++++++++++++++++++++++++++++++++++++++++
Never doubted this President from the beginning that he meant what he said at the HRC National Dinner - October 10, 2009:
...So I know you want me working on jobs and the economy and all the other issues that we're dealing with. But my commitment to you is unwavering even as we wrestle with these enormous problems. And while progress may be taking longer than you'd like as a result of all that we face -- and that's the truth -- do not doubt the direction we are heading and the destination we will reach.

//snip

We are moving ahead on Don't Ask Don't Tell. (Applause.) We should not be punishing patriotic Americans who have stepped forward to serve this country. We should be celebrating their willingness to show such courage and selflessness on behalf of their fellow citizens, especially when we're fighting two wars.

We cannot afford to cut from our ranks people with the critical skills we need to fight any more than we can afford -- for our military's integrity -- to force those willing to do so into careers encumbered and compromised by having to live a lie. So I'm working with the Pentagon, its leadership, and the members of the House and Senate on ending this policy. Legislation has been introduced in the House to make this happen. I will end Don't Ask, Don't Tell. That's my commitment to you.
This was what he had committed and the detail transcript is
here
:
President Obama re-states his commitment to ending Don't Ask Don't Tell (DADT) The military ban on LGBTs serving in the military openly. - Check
Repeats his pledge to see an end to the Defense of Marriage Act (DOMA). - To Do
Re-stated commitment to Employment Non-Discrimination Act (ENDA). - To Do
Thanks the late Senator Ted Kennedy for his work on the Matthew Shepard Act. - Check
States a commitment to re-authorizing The Ryan White CARE Act for AIDS/HIV health care. - Check
Promises increased emphasis on federal response to HIV/AIDS and also repealing the ban on HIV infected travelers entering the USA. - Check
+++++++++++++++++++++++++++++++++++++++++++++++++++
President Obama's Calls for End to Don't Ask, Don't Tell - Jan 27, 2010.
This year — this year, I will work with Congress and our military to finally repeal the law that denies gay Americans the right to serve the country they love because of who they are. It's the right thing to do.

Transcript
++++++++++++++++++++++++++++++++++++++++++++++++++++
Can anyone tell me a President that has held a LGBT Pride Reception at the White House? You can't because it never happened ever until President Obama & the First Lady held one.

LGBT Pride Reception at The White House:
I believe that committed gay and lesbian couples deserve the same rights and responsibilities afforded to any married couple in this country, I have called for Congress to repeal the so-called Defense of Marriage Act. (Applause.) We are pushing hard to pass an inclusive employee non-discrimination bill. (Applause.) No one in America should be fired because they're gay. It's not right, it's not who we are as Americans, and we are going to put a stop to it.

And finally, we're going to end "Don't Ask, Don't Tell". (Applause.) That is a promise I made as a candidate. It is a promise that I reiterated as President. It's one that this administration is going to keep. Now, the only way to lock this in -– the only way to get the votes in Congress to roll back this policy -- is if we work with the Pentagon, who are in the midst of two wars.

And that's why we were gratified to see, for the first time ever, the Secretary of Defense, Bob Gates, testify in favor of repeal. And the Chairman of the Joint Chiefs of Staff, Mike Mullen, has repeatedly and passionately argued for allowing gay men and women to serve honestly in the military. (Applause.) We know that forcing gay and lesbian soldiers to live a lie or to leave the military, that doesn't contribute to our security -- it harms our security.

Transcript
+++++++++++++++++++++++++++++++++++++++++++++++++++++
These are a few of the brave and openly LGBT Americans serving the President of The United States:
+++++++++++++++++++++++++++++++++++++++++++++++++++
The "It gets better" campaign by the White House:
++++++++++++++++++++++++++++++++++++++++++++++++++++
Amanda Simpson, Senior Technical Advisor and first open transgender woman to receive a Presidential appointment, discusses her history and offers support for those still struggling for acceptance.
Please watch this, it is very powerful!
++++++++++++++++++++++++++++++++++++++++++++++++++++
Some notable quotes from
The White House Blog
:
Andrew Sullivan, The Atlantic:
Obama's Long Game: 65-31
"Without the Pentagon study, it wouldn't have passed. Without Obama keeping Lieberman inside the tent, it wouldn't have passed. Without the critical relationship between Bob Gates and Obama, it wouldn't have passed. It worked our last nerve; we faced at one point a true nightmare of nothing ... for years. And then we pulled behind this president, making it his victory and the country's victory, as well as ours."
Milwaukee Journal Sentinel:
Making good history
"When Obama signs a bill repealing the military's 'don't ask, don't tell' rule, it will be an event as significant for gay rights as President Harry Truman's order integrating the U.S. military was for black Americans. Obama's signature will mark historic progress for a nation that has for too long denigrated gay Americans. Our hope is that it is the death knell for one of the last frontiers of bigotry."
Denver Post:
For gays in the military, a measure of equality
"A basic civil right will finally be extended to thousands of men and women serving our nation in the military."
Detroit Free Press:
Another policy of prejudice rejected
"[F]or anyone whose soul is still stirred by the words of America's founding declaration, the end of DADT marks a monumental step toward the equality and justice its drafters sought to secure. And the process by which it was achieved highlights both the enduring strength of the American democratic process and the wisdom of its current stewards."
Los Angeles Times:
'Don't ask, don't tell': lessons of a long fight
"Support for repeal among the public and in Congress also reflected changing attitudes that can be credited not only to gay rights campaigners but also to ordinary gay and lesbian Americans who, by embracing their identity, made it harder for their friends, families and co-workers to cling to anti-gay prejudices."
Las Vegas Review Journal:
Closing this chapter
"President Obama is correct that sexual orientation places no limits on the ability of an American to display strength, courage and character. Despite the prohibition, gays have served and fought honorably in many armies -- and have essentially been integrated in the military for decades. Irrational prejudice is a thing to be confronted and overcome."
Louisville Courier-Journal:
Repealing bigotry
"'It is time to close this chapter in our history,' Mr. Obama said last Saturday. 'It is time to recognize that sacrifice, valor and integrity are no more defined by sexual orientation than they are by race or gender, religion or creed. It is time to allow gay and lesbian Americans to serve their country openly.' A lot had to happen for an American commander in chief to be able to make that remarkable statement. Public attitudes had to change, and they have. Brave men and women had to risk everything in trying to end this discrimination, and they did. Public officials had to stand against storms of criticism, and they stood. The military establishment had to rectify a long-standing injustice, and it bent toward justice."
AMERICAblog Gay:
Tanya Domi: 'we stand on the shoulders of many who have not lived to see this day'
"But ultimately this vote and ultimate victory, belongs to the veterans and active duty service members who would not relent to the inaccurate political belief that we should not allow gays to openly serve during the course of two ongoing wars."
Miami Herald:
So long, 'don't ask, don't tell'
"At least 25 nations allow gays and lesbians to serve in the military -- including Great Britain, Canada and Israel. Surely, the time has come for the United States to adopt the same enlightened policy. With two ongoing wars, the U.S. military simply can't afford to exclude any individual able and more than willing to serve."
Virginian-Pilot:
Good riddance to ban on gays
"The military will adapt to this change, just as it did to racial integration and to allowing women to serve. In both those cases, critics predicted the sky would fall. It didn't. It won't this time, either."
Pittsburgh Post Gazette:
Victory in battle: Reason and equality win on 'don't ask, don't tell'
"The majority of military men and women surveyed, plus the top brass, said they favored repealing the policy. Defense Secretary Robert Gates and Adm. Mike Mullen, chairman of the Joint Chiefs of Staff, supported ending 'don't ask, don't tell.' What counts is that a good soldier is a good soldier."
Houston Chronicle:
A salute: Finally, all American troops can serve their country openly
"It (the repeal vote) was a rare display of principle over politics, especially in the bitterly divisive climate of this rough-and-tumble lame-duck session. Good for them, good for our troops, and good for our country. Let's hope it's catching."
New Orleans Times-Picayune:
Allowing gay men and lesbians to serve with integrity
"Gay men and lesbians are already demonstrating their valor and patriotism in the armed forces, something that members of the military clearly recognized, based on their responses in a recently released Department of Defense report. Allowing them to do so honestly is only right."
Billie Jean King, The Huffington Post:
Repeal of Don't Ask, Don't Tell Is a Big Deal
"I am proud to be an American and I am honored to have the men and women who serve in our armed forces put their lives on the line to protect our nation. Their race, gender or sexual orientation does not matter to me. What matters most is their commitment to our country. And that is a big deal."
*******************************************************
Pictures sourced from White House or Public Domain
*******************************************************
President Barack Obama meets with Joint Chiefs about DADT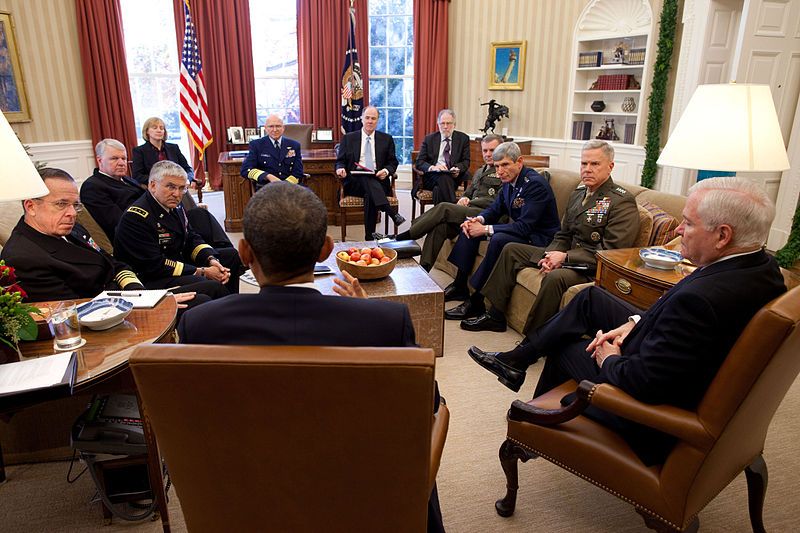 *******************************************************
The President is joined by Vice President Joe Biden, Administration officials, and members of the Congress and the military as he signs the Don't Ask, Don't Tell Repeal Act of 2010. (AP Image)
*******************************************************
Audience members applaud President Barack Obama during a signing ceremony for "don't ask, don't tell" repeal legislation that would allow gays to serve openly in the military, Wednesday, Dec. 22, 2010, at the Interior Department in Washington. (AP)
*******************************************************
People in the audience listen as President Barack Obama speaks before signing the Don't Ask, Don't Tell Repeal Act of 2010 during a ceremony at the Interior Department in Washington, D.C. December 22, 2010. (Official White House Photo by Pete Souza).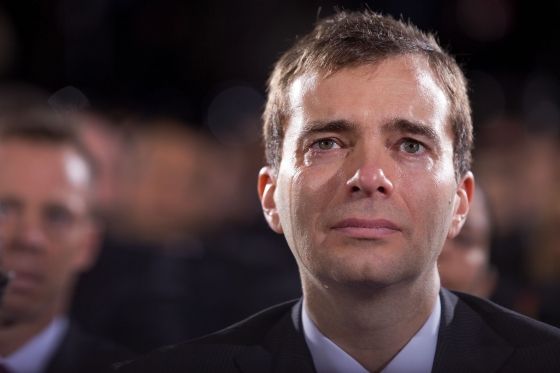 *******************************************************
People in the audience listen as President Barack Obama speaks before signing the Don't Ask, Don't Tell Repeal Act of 2010 during a ceremony at the Interior Department in Washington, D.C. December 22, 2010. (Official White House Photo by Pete Souza).
*******************************************************
President Barack Obama and Vice President Joe Biden shake hands with people in the audience after signing the Don't Ask Don't Tell Repeal Act of 2010 at the Department of the Interior in Washington, D.C. December 22, 2010. (Official White House Photo by Samantha Appleton).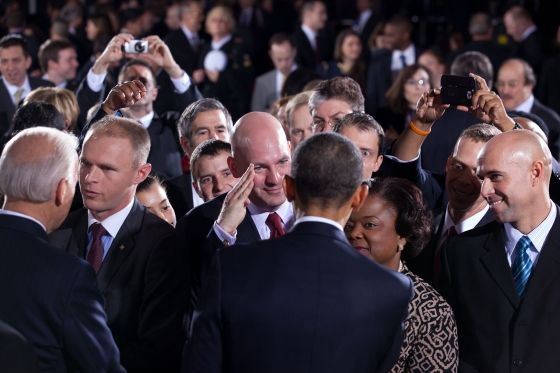 *******************************************************
Rep. Barney Frank, D-Mass. , an openly gay member of Congress, collects himself during President Barack Obama's signing ceremony for "don't ask, don't tell" repeal legislation that would allow gays to serve openly in the military, Wednesday, Dec. 22, 2010, at the Interior Department in Washington.(AP)
*******************************************************
President Barack Obama speaks with, from left, former Navy Commander Zoe Dunning, left, and former Marine Staff Sgt. Eric Alva and House Speaker Nancy Pelosi of Calif. , before signing "don't ask, don't tell" repeal legislation that would allow gays to serve openly in the military, Wednesday, Dec. 22, 2010, at the Interior Department in Washington.(AP)
*******************************************************
President Barack Obama smiles at the Interior Department in Washington, Wednesday, Dec. 22, 2010, prior to signing the "don't ask, don't tell" repeal legislation that would allow gays to serve openly in the military.(AP)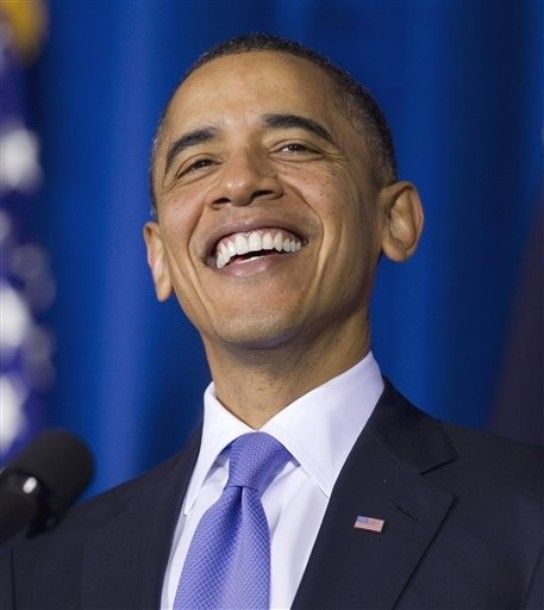 *******************************************************
President Barack Obama gestures at the Interior Department in Washington, Wednesday, Dec. 22, 2010, prior to signing the "don't ask, don't tell" repeal legislation that would allow gays to serve openly in the military.(AP)
*******************************************************
President Barack Obama smiles at the Interior Department in Washington, Wednesday, Dec. 22, 2010, prior to signing the "don't ask, don't tell" repeal legislation that would allow gays to serve openly in the military.(AP)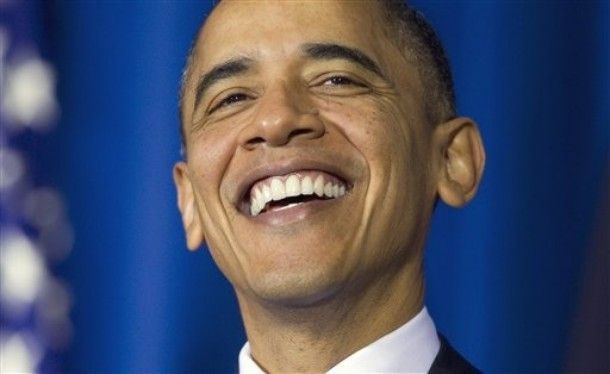 *******************************************************